Angling Trust and the Carp Society's involvement in Angling Politics
I've been intending to mention our work and meetings with the Angling Trust for a while. We have been talking to them, along with the PAG (Predation Action Group) about a range of issues. Mark Lloyd, Martin Salter and James Champkin of the Trust have all visited Horseshoe in recent times to talk to us about a range of issues affecting Anglers and Carp anglers in particular. The Society is a group member of the Trust, and board members have individual membership as well. Annual membership of the Trust costs just short of £30, (the cost of a few kilos of bait), yet I know many people choose not to join. The general claim is that "they do nothing for us."I believe the Trust has in the region of 16,000 members, plus others who are included by virtue of their clubs or associations. This year around one and a half million rod licences were purchased by anglers. This will give you an idea of the Angling Trust true potential membership. The reason I'm taking time to mention this is simply because if the number of members increased to anywhere near the number of licence holders it would give us a representative voice which would have to be listened to in relation to predation and many other issues, both in Parliament and places of influence. These are the only places where change will come into being.
The Trust has already worked successfully on behalf of specialist anglers in relation to the new three rod licence, funding for otter fencing grants, to over £150,000, and the first licences for trapping. They also work to combat poaching, offer financial support for England's Carp Teams, controls on fish movement to prevent the spread of viruses, and work to enable carp to be stocked into sites of specific scientific interest (previously denied). They are currently supporting "Cormorant Watch 2" which both the Carp Society and PAG are helping to fund. We hope the findings of this research will enable the further removal of restrictions on the culling of Cormorants. If it is within your financial capability both I and my Carp Society colleagues would urge you to join and get behind the work of Angling Trust.

Brian Mills
Sadly Brian passed away recently after a short battle with cancer. There is an obituary to him on this site and our Face Book page. Brian was a long term personal friend of mine and the Carp Society. I first met him during the1970's while winter carp fishing in Kent, and we have kept in touch on and off over the years. He was a great supporter of the Society, providing wonderful carvings and drawings to support our cause. In recent times he kindly donated drawings for us to auction to support the costs related to our recent legal case. The Carp Society is currently holding a number of original drawings, limited edition prints and note lets created from Brian's original drawings. These will be on sale at our AGM in October and our Sandown Show in November with the proceeds going to Brian's widow Gloria, to help at this difficult time. Some of these images are simply stunning. Make sure you take a look.

AGM and Sandown Show
Our AGM is at Horseshoe Lake on Saturday 7th October. It is open to all members. If you are unable to attend, but want to vote you can get information about proxy votes from Sabrina in the Society office or the form can be downloaded from our website.
It's been a long time since there has been an AGM open to members, so do your best to come along. Because of the way the Society is now governed the AGM is quite a formal affair. For that reason we are holding an open forum after in order for you to raise any points or suggestions you wish to make in relation to our work, the way the Society is run, and the way forward.

The Sandown show is on the weekend of November 25th and 26th. Reduced entry costs for members, as well as an early start if you wish. This will be a bigger show, with a different format as well. There are better adverts elsewhere, but please come along and visit the joint Society/PAG stands and say hello.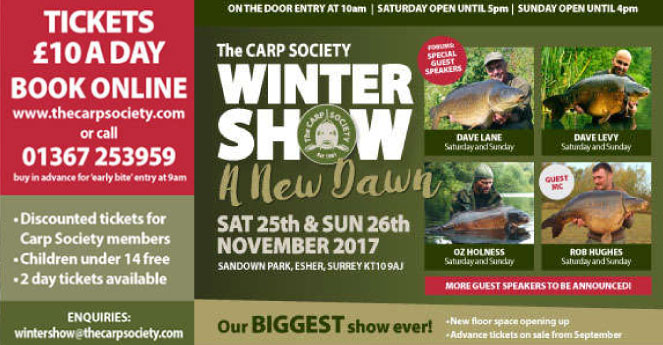 The Full Story!
I have just written my part of the full Carp Society Story, including the Legal Case for the new magazine "Catch Cult." I think it is due for publication in issue 5. I have permission to reuse it in any future publication for Carp Society members. At the same time Miles has recorded his version of events, which as you can imagine is far more colourful than mine!
"Carp Fisher Revisited" in paper or on-line version, whatever we can afford, is on its way. Both pieces will be included. You will find some of the story hard to believe, but it may help some of you understand why we were prepared to risk so much, during the recent legal proceedings. One way or another a publication is coming the way of members to thank you for supporting us!
Fishing
Miles has been posting some terrific photos of fish from both Horseshoe and Farriers. Some of them are simply stunning. It's great to see photos of so many of you doing well at our fisheries. Miles and his team of bailiffs deserve great credit for the way in which our waters continue to improve.
We are all very sorry to have lost Langholme in North Lincolnshire as a Society water. We did our best to purchase the lake but were comprehensively outbid during the tendering process. It was in the middle of our legal case to regain control of the Carp Society, so it was difficult to say the least. The only plus side of what happened, was that we received significant compensation financially from the sale of both the fish and otter fencing, which were Society property. In the fullness of time we hope to use this money to help us secure fishing on another venue for our members.
On a personal note I'm pleased to tell you I'm still out there doing it, and here is a recent photo.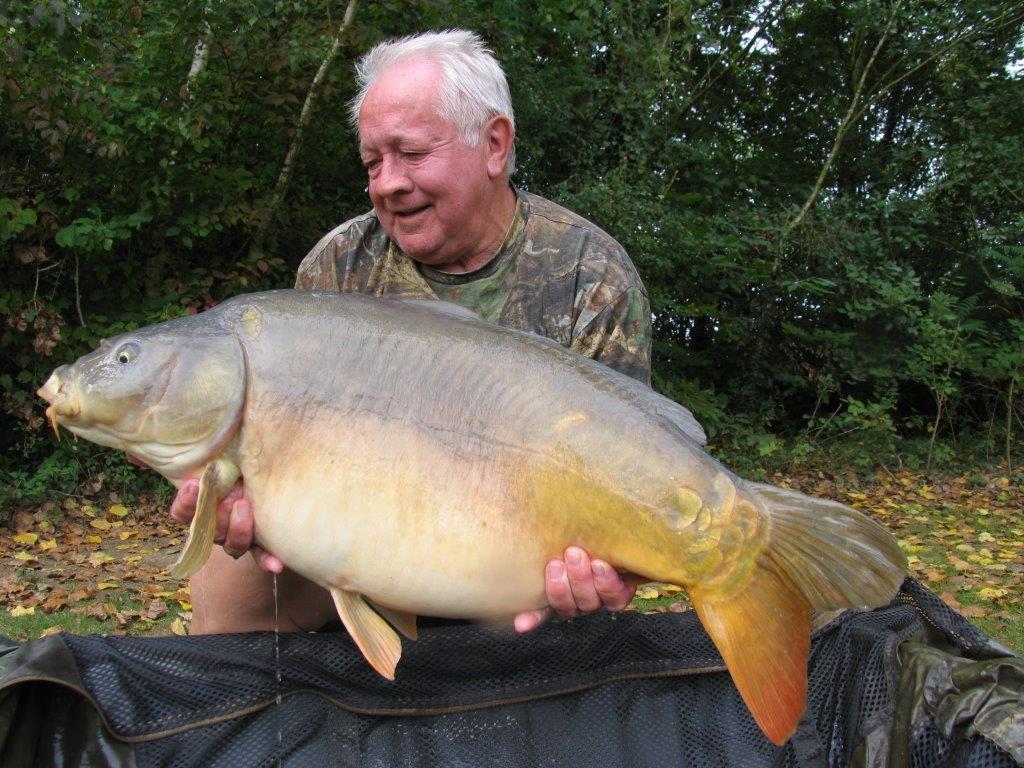 The Carp Society is all about Carp fishing again! Enjoy it! Hope to see you at the AGM and or Sandown preferably both!


Derek Stritton