News - October 2017

Update Annual General Meeting October 7th 2017

Well, after all of the trials and tribulations of recent times, the Carp Society finally got round to holding an open to members AGM! Over fifty members attended, and numerous others sent proxy votes.
Rob Saunders, long time member was elected to the single board vacancy as a voting member, and in the spirit of openness, and knowing we need members for the future we agreed that the two other candidates, Mark Walsingham and Steve Bowles be invited to attend future board meetings and contribute to discussions without voting rights.
Following the AGM we held an "open forum" where members were given an opportunity to give their views about the Societies future, as well as ask questions about the recent legal dispute. We even had refreshments and food! Thank you to everyone who came along, and to those of you who helped out on the day. We didn't all agree, all of the time, but members had their chance to have their say, and I hope you will see a response to some of the issues raised on the day, during the weeks and months ahead. No doubt Miles will produce a more colourful and entertaining description of events in his blog, when it appears!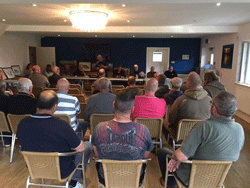 Carp Society Exhibition/Museum at The Tim Paisley Lodge Horseshoe
Well, we are finally on our way! Cabinets will be installed over this winter, and we already have a number of exhibits. We hope to have displays illustrating a number of areas. Obviously, the development of the Carp Society, Redmire Pool, Rods and reels, buzzers, alarms and indicators, significant photos and paintings, we already have some stuffed fish, there will be at least one famous Brian Mills carving and drawing. There are copies of Carp Fisher Magazines, Cyprynews and books.
We are obviously looking for donations to support this, and if you have a contribution please contact Miles or Sabrina at Horseshoe Lake or message me.

Carp Fisher Revisited
Be patient, it may take a while, but it's on the way!

Brian Mills
We are seeking to help Brian's widow Gloria, during what must be a difficult time, we have original drawings, limited edition prints and notelets for sale. These are currently at Horseshoe, and will be on the Society stand at our Sandown Show. We will also have Brian's entire portfolio of over 100 previously unseen original drawings for sale at Sandown, funds going to support Gloria.
Brian was a huge supporter of the Carp Society over many years. Help us please, in trying to give something back.

Predation Action Group
The PAG will share our stand at Sandown. We are currently trying to support them in raising funds towards a very important film they are trying to make.
Come and look, say hello and make a contribution if you can.

And so to Sandown 25th and 26th November
Come and support our Sandown event if you can, as a member you will receive a reduced price, and early entry if you wish to take advantage of it.
There's a new format for the event this year, great speakers in Oz Holness, Dave Levy and Dave Lane. Hosted by Rob Hughes and some great stands and exhibitors! Come and say hello on the Society stand!

We are also planning another Horseshoe event for 2018, only this time free to members. Date to be announced in due course.

Derek Stritton