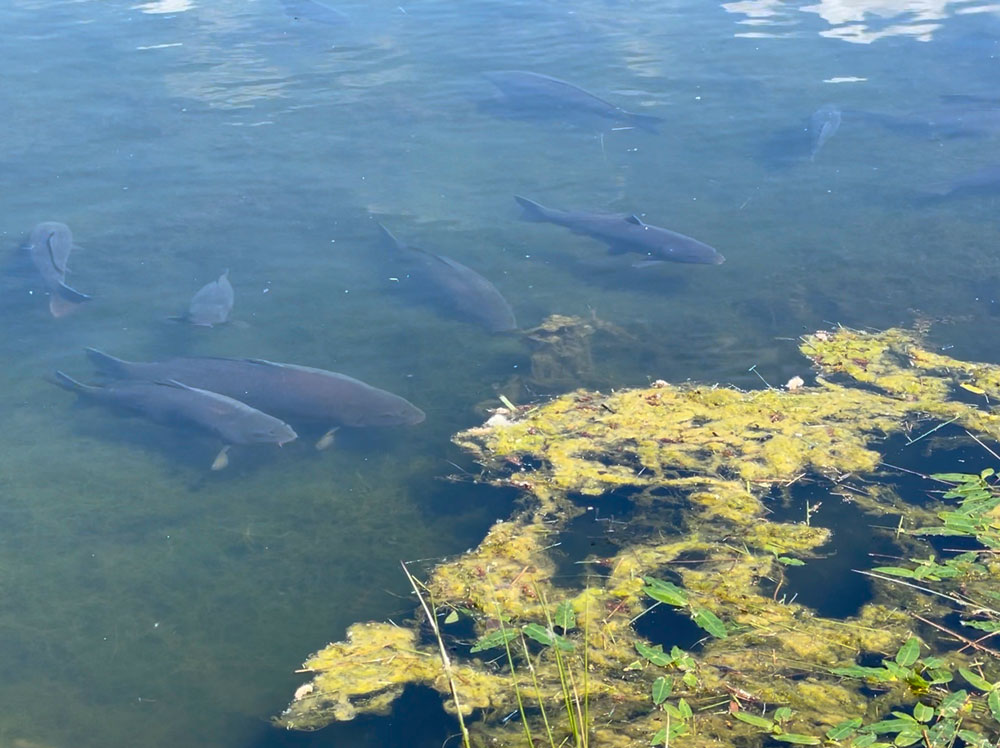 A bit of maintenance
With Horseshoe closed for spawning a couple of days after the Open Weekend, it was the ideal time to catch up on a bit of maintenance. The mounds stock pond, has for a while now, been showing signs of bankside erosion, so we thought we'd have a look at that. After having a look it was quite clear that it needed a bit more than "a bit of maintenance". On inspection it became evident the source of the problem was a natural spring permanently running into the pond. This presented a whole new set of problems. With it being a natural spring it's not really something you can stop. You can block its entry point but it would, at best just re-route its path and find another way in or at worst course a dam like effect that will eventually create a build-up of pressure and burst open.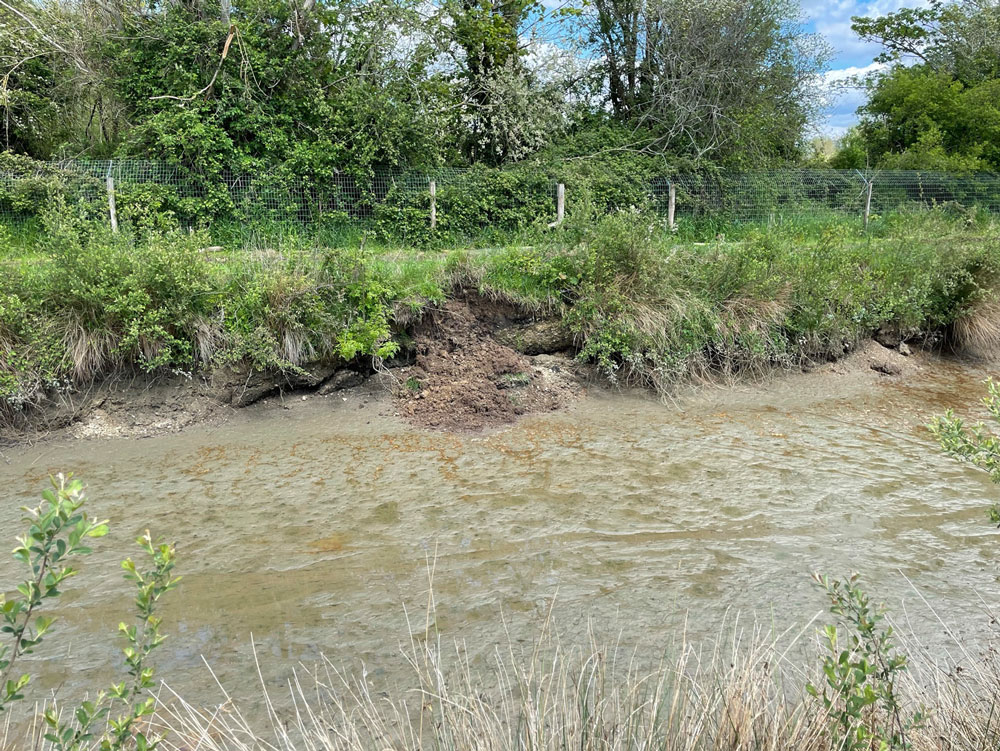 Bankside Erosion
Anyway what we decided to do was scrape the bank back and rebuild and reshape it with some added blue pond clay. Then we decided that it would be best if we didn't take any vehicles over the area, as I think that was causing a lot of the landslides we'd been witnessing. This then led us to create an alternative route that involved levelling the other side of the pond (the lakeside). That then necessitated shifting hundreds of tons of earth.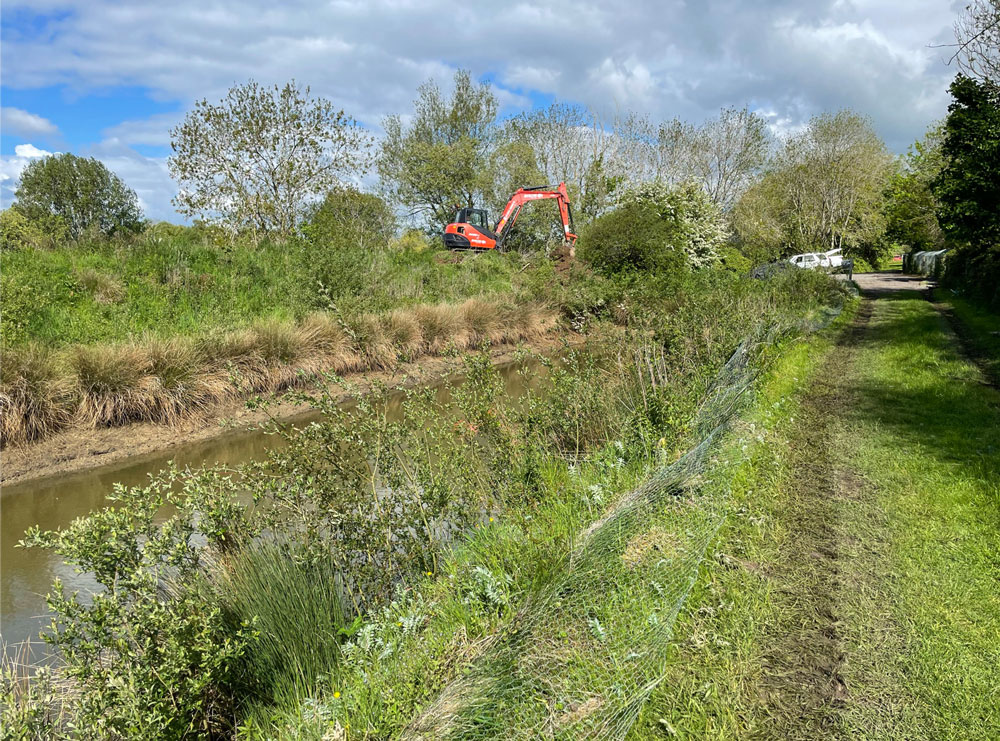 What it did look like
The road/pathway from the mounds up to the sluice and round passed the top stock pond has for some years now suffered from the flooding's and general wear and tear so what we decide to do with the spoil from the levelling of the mounds was to repair and rebuild the road/pathway. This in turn led to us thinking we might as well improve the swims up there as we go. So along with reworking the stock pond, relaying the road we also did some very extensive work on ten swims, involving cutting back the trees and vegetation, opening them right up, rebuilding the fronts and backfilling them.

Starting off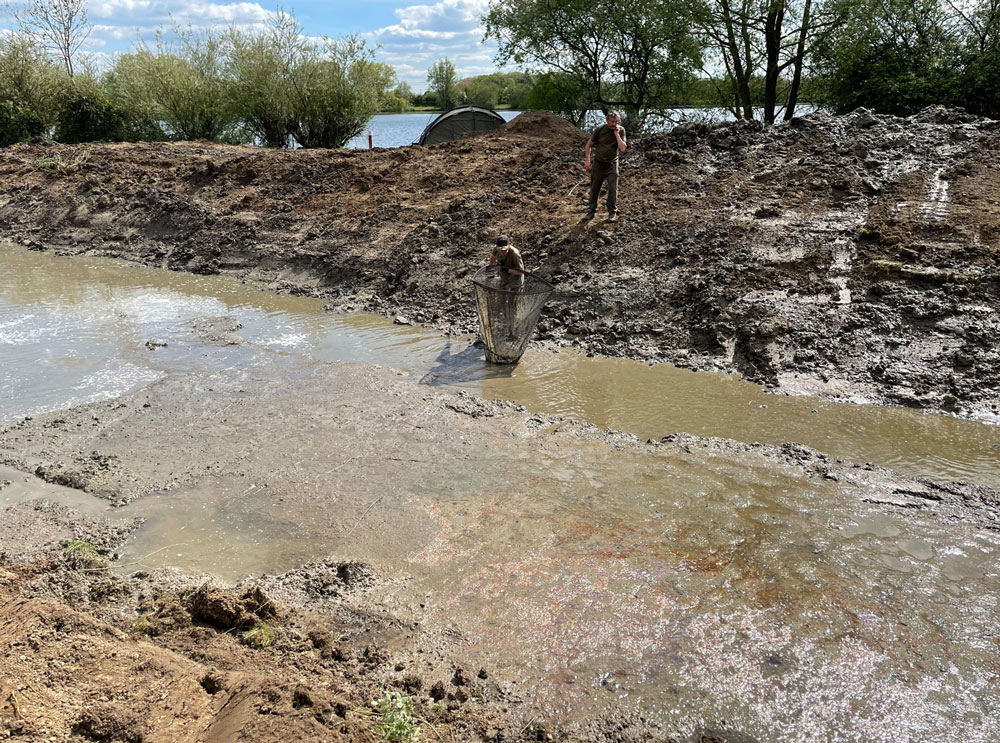 Catching a few escapees
So what started off as "A bit of maintenance actually turned out to be a massive landscaping project that took us, working bang at it, the best part of two weeks to complete. We then grass seed the whole area with about 100kg of seed, and of course we then didn't get a drop of rain for the next two or three weeks till this weekend gone, in which time the Pigeons and the Crows and the Geese think it's their Christmas and birthdays all at once, so another seeding is probably going to be needed.

Scraping back and making good

On to the roadway now
So yes, a bit of maintenance indeed. A massive thank you to Karl, Nick and Mark for another job well done, thank you very much. We will be leaving the road and new swims closed for the time being to allow it to stabilise, but once it's all settled in and the grass as grown back I think it will look mint. So although it might be a bit inconvenient to anyone wanting to fish that area in the next couple of weeks, it should allow for a better fishery for years to come, which is the end result for everything we do here. We do what we can for the here and now, but ultimately we are always trying to ensure the longevity of all our lakes and indeed the Carp Society itself.

Repairing the swims as we go along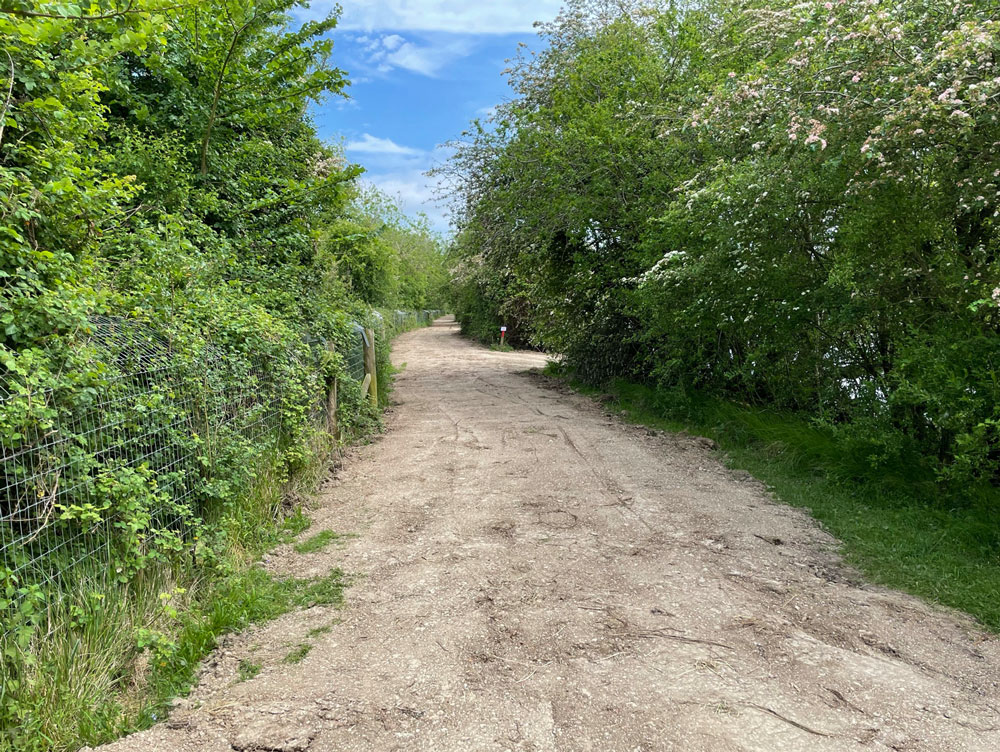 Getting there

Taking shape nicely
Looking good

Looking at the re-worked swims from the Witney Bank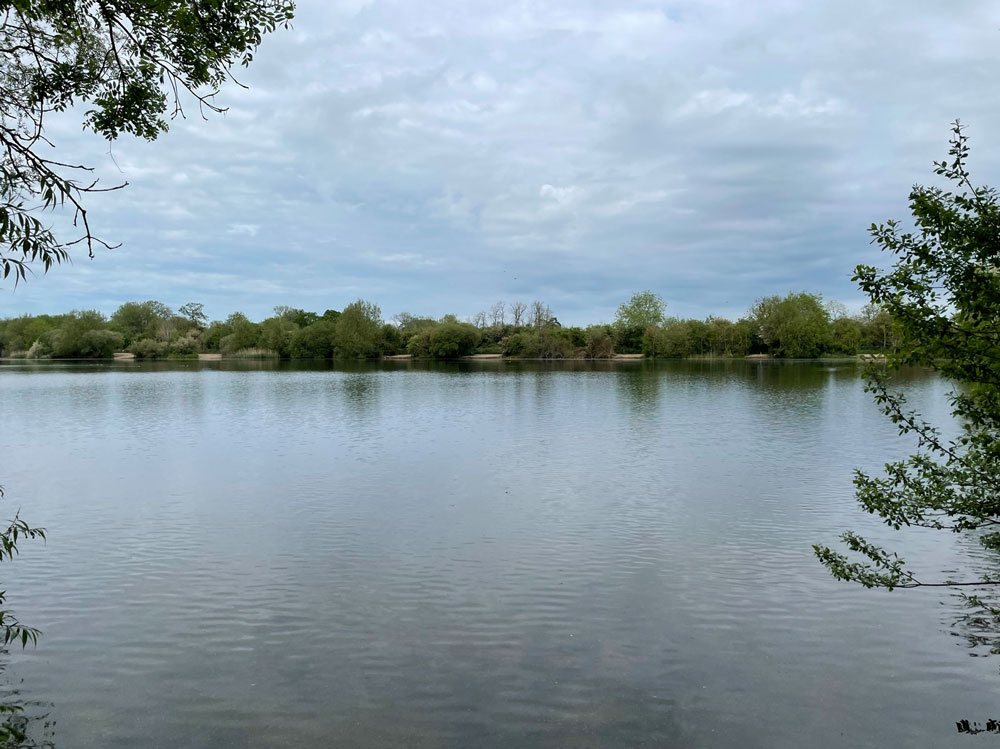 I mentioned spawning at the beginning of this write up, and it's something I want to touch on now. It's a bloody awful time for anyone who runs a fishery. It doesn't help that it's timing is so unpredictable. The last couple of years on Horseshoe the fish have spawned early April. This year it was early June. Spawning location seems to change from year to year. The first few years I was here the Carp always spawned in between the lawns/Summer disabled and the springs, but since then they've spawned all over the lake, and at different times.

Chilling?
A good indication to me when the carp are going to spawn is a day or two beforehand someone usually catches a shed load. It was made a bit more difficult this year though when a guy who usually catches a lot of fish caught a lot more than a lot. I probably haven't explained that to well but basically if someone I know who has previously had a modest return from their endeavours suddenly catches twenty or thirty fish I kind of know it's more to do with the fish's behaviour, and in that case the likelihood of imminent spawning, than it has to do with the angler becoming Terry Hearn overnight. I don't mean that disrespectfully neither, it's just an observation from my time here, but like I say I was thrown off course this year when an exceptionally good angler caught an exceptional amount of fish. But spawn they did.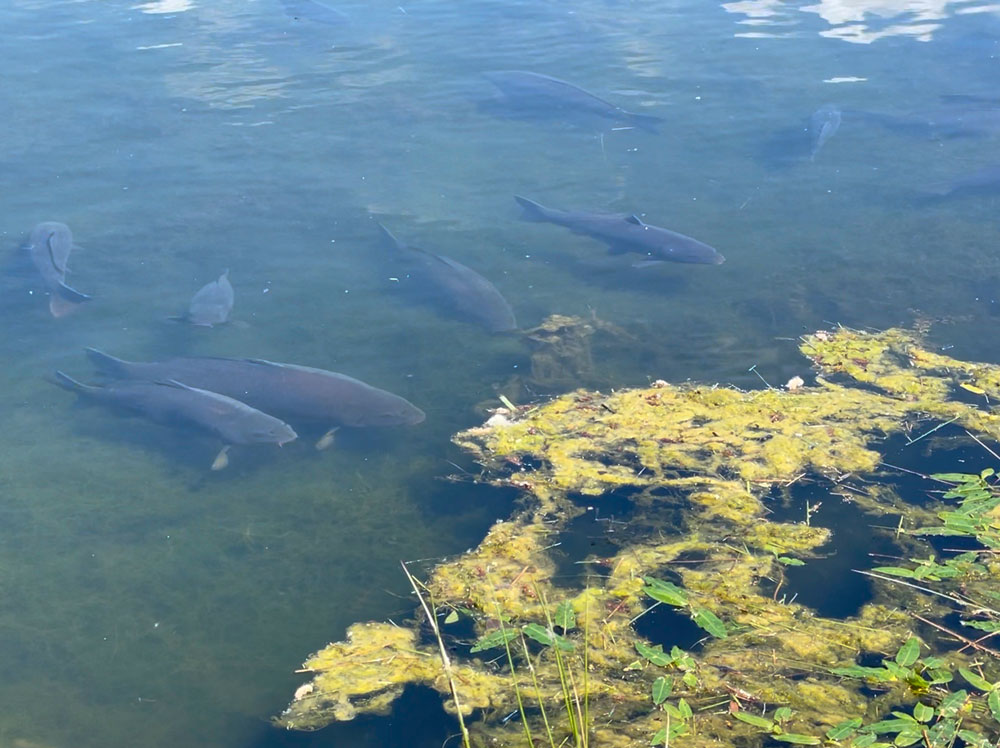 We closed the lake when the fish started spawning but by the following day there was no sign of spawning, which in itself is most unusual. Unusual but not unheard of. A few days later though the fish started grouping together really close in, in front of summer disabled, I'm talking about close enough in to be able to bend down and pick them up, not that we did, but that's how close some of them were. It seemed only a matter of time before they went again but nothing happened for a few more days until the fish started spawning quite noticeably in front of peg 1 and then in-between Boat Point and the Mounds. Then for the next week or so they were back in front of Disabled just apparently chilling, well, that's what you hope they are doing. Spawning is such an unpredictable and stressful time that any sort of weird behaviour sets the alarm bells ringing and this was definitely weird and unusual so we were monitoring it closely and often but the fish seemed happy enough, so really it was just a case of wait and see. Happily though, things seem back to normal and we have now reopened the lake so fingers crossed we can all enjoy the time we've got till next lockdown. Oh the joys of living in a tyrannical oligarchy. Stop it Miles.

Swim repairs at Farriers
Anyway, as they say, no rest for the wicked and it was on to Farriers where Rob had called a work party, so I went down to help out. Fair play to the guys down there it was a really good turn out and as always we got plenty done over the weekend. We built up a corner of the lake that as suffered with flooding the last few years. We also repaired a few swims and did some general maintenance, strimming, and pruning, snag removal, that sort of thing. So again a massive thank you to everyone that turned up and helped out. A job well done.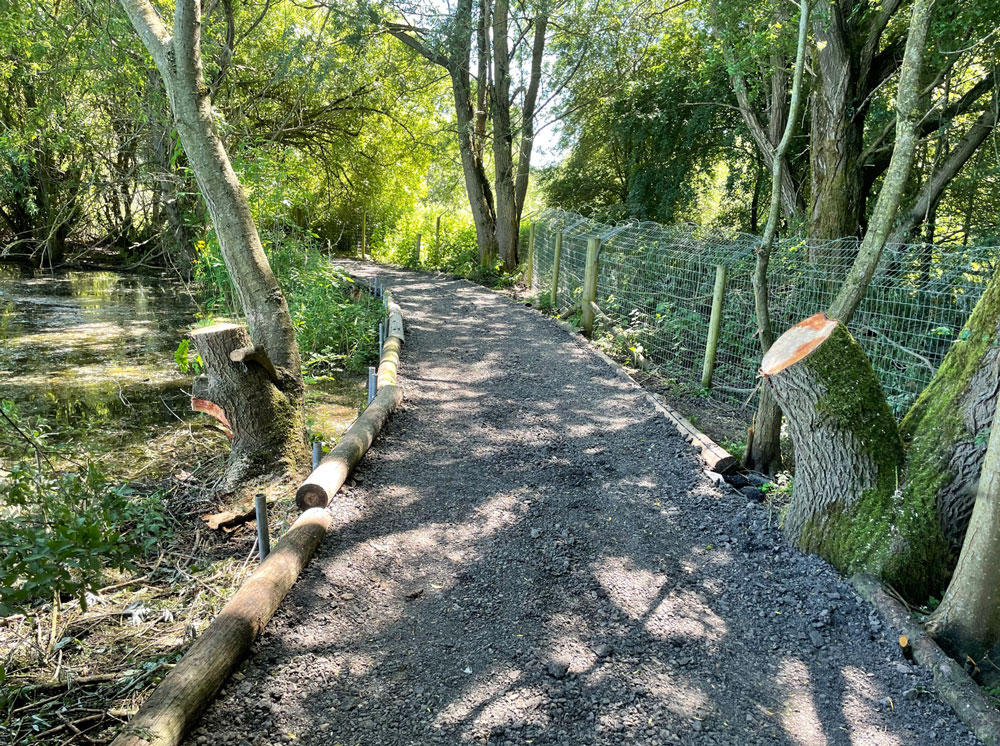 Flood defence at Farriers
Britain in the summer time as got to be the best place in the world, glorious sunshine, long evenings, gorgeous dawns and dusks, it really is quite wonderful. But by God it's a nightmare for lake owners. After several weeks of baking hot temperatures, you're are all of a sudden subjected to thunderstorms and while these in there selves can be quite beautiful and spectacular, they don't half create problems for the fish, not least of all through oxygen depletion. Already this year I've heard of several lakes that have tragically lost fish. Just one barmy night can wipe your entire stock out; it truly is awful to hear of. Everything you've worked for, all the blood, sweat, tears, not to mention usually your life savings, wiped out in hours.
We've had our own issues on the stock ponds here at Horseshoe with dangerously low oxygen levels; it's only foresight and investment in aeration systems and the necessary electric supply that's prevented disaster. That and a few dedicated people. We've sailed close to the wind more than once, but so far so good, but it is a constant battle. So my heart goes out to all the fisheries that haven't been so fortunate. To be fair to the EA they are invaluable at this time of year to clubs and waters that are in danger, but the EA can only be in so many places at any given time. If you can help your club or angling association out, then please offer your services, even if it's only monitoring your waters, please put yourself forward, you really can make a difference. Don't just leave it and presume others have got it covered. You might just save the future for your kids and grandkids.

Till next time
Miles