CARP SOCIETY OPEN WEEKEND IN TRIBUTE TO ROD HUTCHINSON
3RD & 4TH AUGUST 2019 AT HORSESHOE LAKE
The Carp Society are delighted to announce further detail about the August weekend, planned as a tribute to the life Rod Hutchinson.
If you're a fan of Rod which I'm sure you are, or just a bit "old school" we think you'll really enjoy this one!
Expect bigger and more, as we continue to build on the Horseshoe open weekend of the past two years. We will be joined by a number of Rods family for the weekend, as well as many of his long term friends.
Events include:
* The launch of a limited edition book about Rod compiled by Tim Paisley and designed by Mike Starkey on our behalf.
* There will be trade stands around Horseshoe Lake.
* Fishing demonstrations including casting and the perch fishers.
* A large marquee for the talks, presentations and events
* The Society Museum which continues to grow
* Family activities and bouncy castle
* A daily raffle, with great prizes and draw time to suit everyone
* Opportunity to see our fish rearing activities, including our new "kiddies fishing pond" where, all being we'll your children can learn to fish (assuming we are completed on time)
* Food available on both days.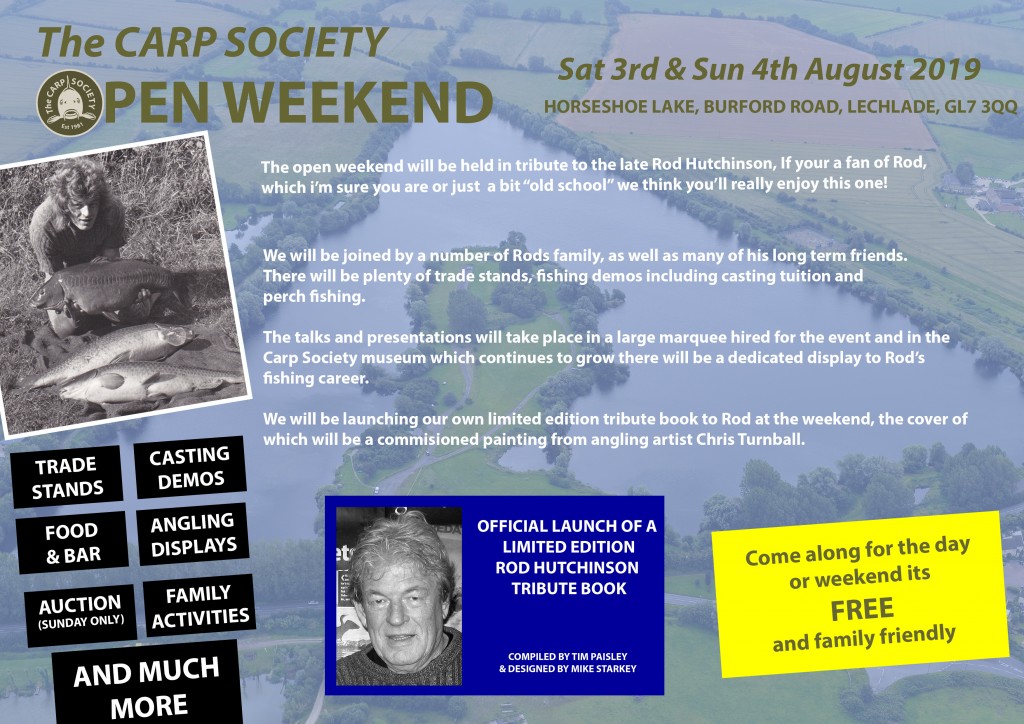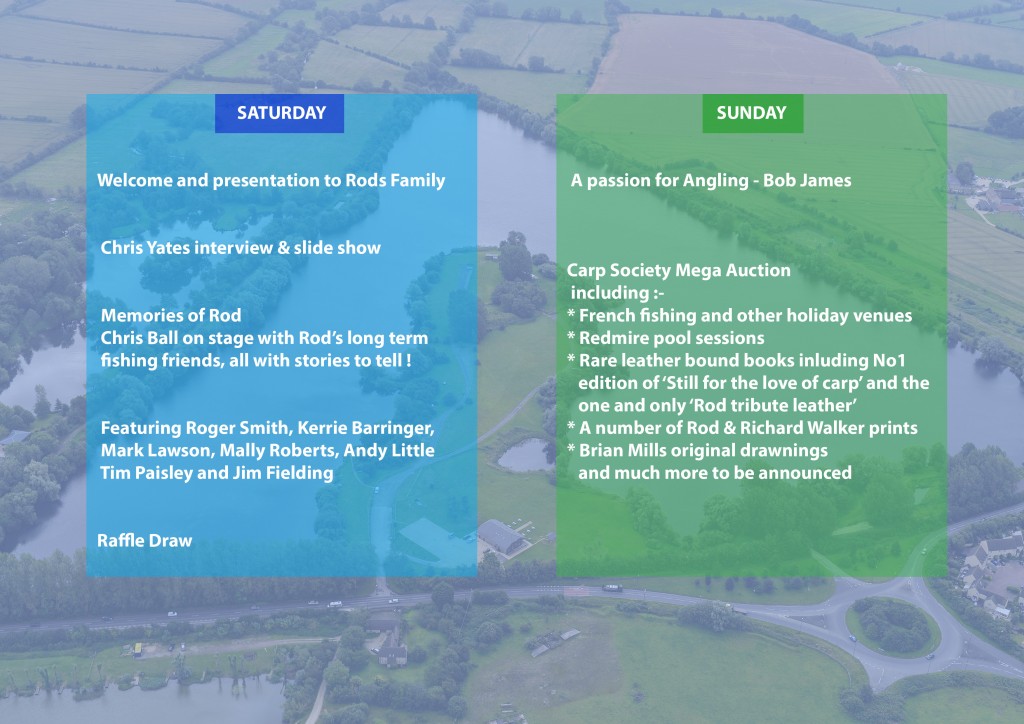 We will also have a number of Rod and Richard Walker prints, some Brian Mills drawings (proceeds to Gloria, Brian's wife) Full details to be published nearer the time. Please be aware that that the proceeds raised from all of these events are to fund the costs of this weekend which will be considerable. Please continue to look on our web site, FB page and numerous other old school sites for further updates.
For anyone wishing to stay over both days, there are excellent toilet and shower facilities at Horseshoe lake where you are welcome to Bivvy up and sleep. That said, only those invited will be able to fish. Families, children and dogs are all welcome, under control, and cleaned up after please. There are a number of local hotels which could also offer accommodation, if you are unsure where you can check at the Society HQ.

All being well, see you in August!