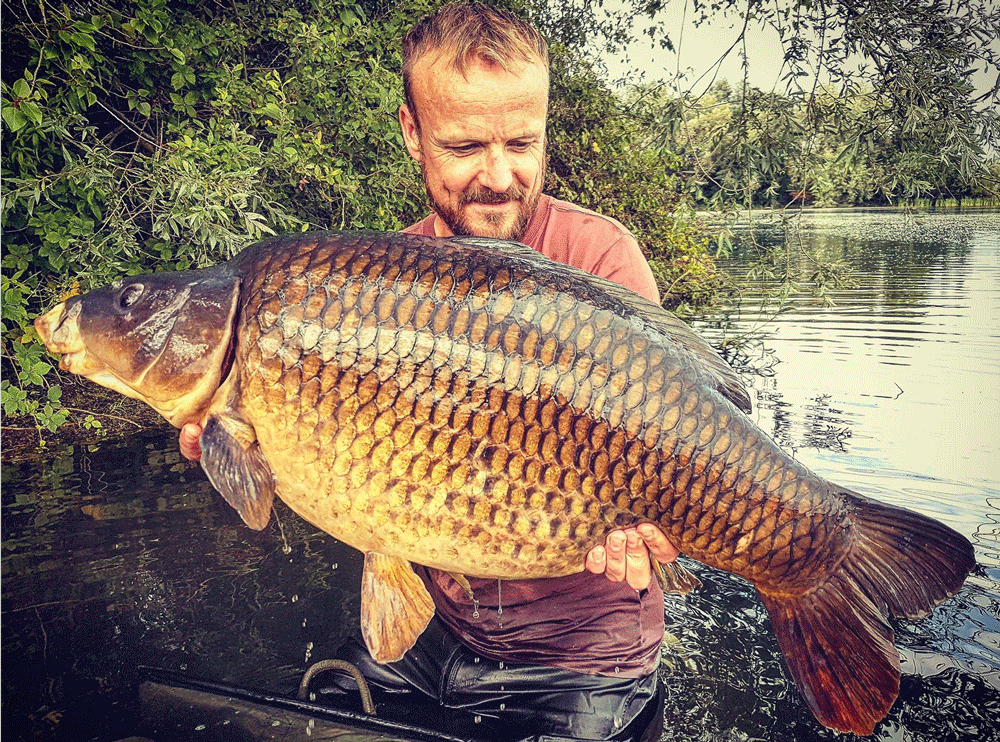 The Theatre of Dreams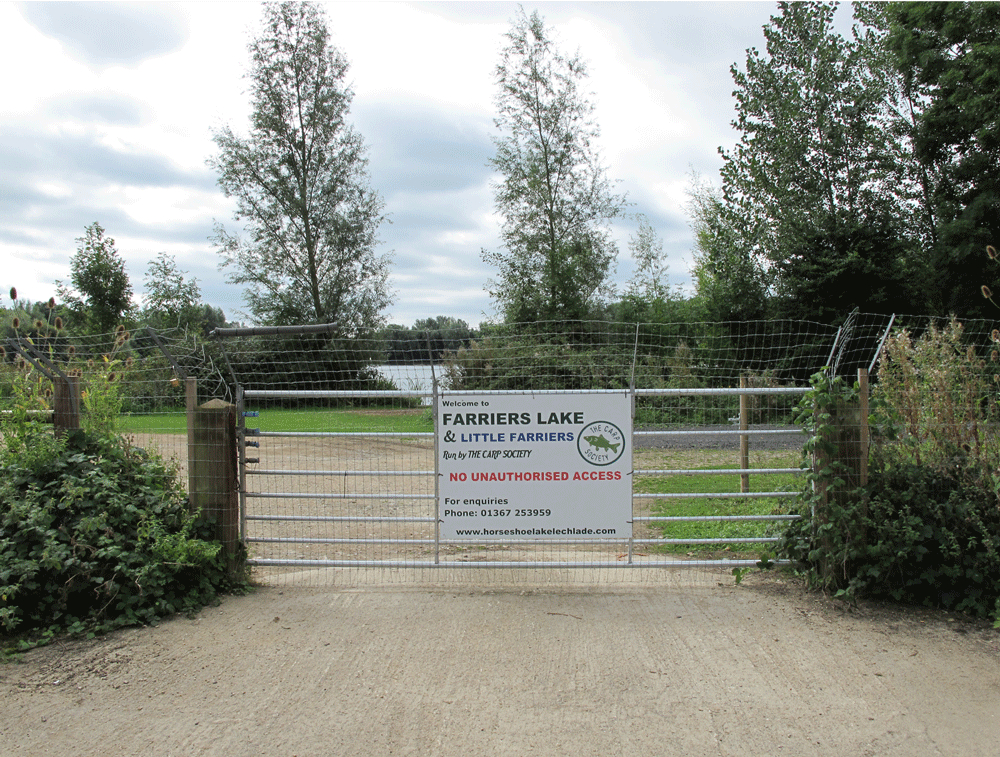 At the beginning of the year I set myself two goals, well three really if you include winning the court case, you could call it four if you include a liaison with Severn of Nine, but for this blog two will do. Goal one was to catch a VS 30 from Horseshoe and goal two was to catch a 40 from Farriers. I did actually achieve goal one without even casting a line out when in March or February I landed a VS 30 on someone else's rod whilst he was playing a fish and had a run on his other rod (a double take if you like) but given it wasn't really my fish I passed on the opportunity to claim it.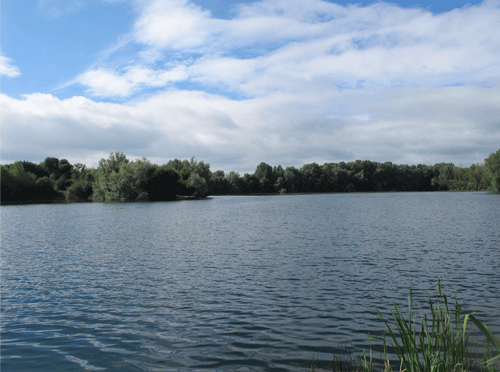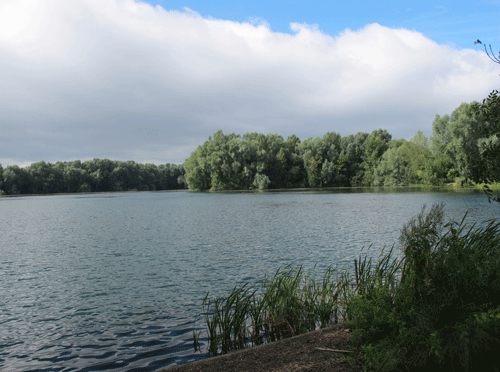 My fishing time this year, as has been the norm for the last 8 years has been very limited, I started off getting a couple of weekends in on Horseshoe and had a couple of fish to 26lb then work got in the way and I haven't been fishing for what seems like a lifetime, (probably more like 3 or 4 months), but far too long anyway. So I was uber excited to eventually be able to get a few days off and head off to Farriers.
I've long since yearned for a 40 from Farriers but haven't really been able to put the time in. I've fished it 6 times in 8 years and the nearest I have come to a 40 is 2 35's, so not far away but no cigar. This time though, I had high hopes. I'd had a few rekey missions and heard of a few decent fish coming out so felt that it was bang on. So with high hopes on a dull and damp Monday morning I set off to accomplish goal number two.
I'd arranged to meet a mate of mine, Andrew Grimshaw at the lake at 9am but he was delayed in traffic, this gave me ample time to have a scout round and see what was what. There were only a couple of people on the lake with the weekend boys already gone so I didn't have much to go on in regard to location over the last few days . I knew peg 8 had been doing a lot of fish and was surprised it was available when I arrived but I opted to give it a miss, I don't know why, I just wasn't feeling it. I was actually feeling the road bank and car park swims but I think that was just the laziness creeping in. If I wanted to catch I knew I'd have to do a bit more than pitch up in front of the car. So with that in mind I settled for peg 6, with Andrew going next door in peg 5. Being an everything but the kitchen sink kind of angler it was mid-afternoon before I'd got two rods out to the left of me, these were both solid bags at about 50 yards on the edge of a weed bed, I put a couple of spods out as well. Another friend of mine, Andrew Ellis then turned up and doubled up with me in peg 6, having not put much bait out I moved both my rods and put them out infront of me for Andrew to fish to the left where I previously was.

Kevin Arkell 38lb
Myself and the two Andrews (G and E) had a bit of grub and chewed the fat before calling it a night and retired to our respective bivvies. It wasn't too long before I was rudely awakened with a proper screaming run and I was out of the bivvy like Usain Bolt (was actually more like Usain Bolts Great Great Grandad but poetic licence and all that) I was going to say I was soon joined by Andrew G but the truth is he was stood by my rod a long time before I actually got there. Anyway, having made contact with the fish I was playing it ever nearer, and it felt like a right lump to be fair. Andrew asked me if I wanted him to bring my other rod in but I wisely said no "No thank you" Oh what a wonderfully wise decision that was I thought to my self has the fish decided to go across my other line. Andrew waded out with the net but missed with a couple of chances (half chances to be fair) then the fish decided to untangle itself and shot off at such a pace it flat rodded me and the line parted. Oh man oh man oh man I thought to myself has I launched my rod into the bushes. To say I was gutted wouldn't even begin to describe it. There are two important lessons to be learned from that. Lesson one, when you buy some second hand reels that are fully spooled up, regardless of whether the seller tells you its good quality 18lb line, change it. Change it, change it, and change it. I could kick myself even now for not doing that one simple thing. Lesson two, never forget to slacken the clutch when you've got the fish close to the net, absolute school boy error and one I'm afraid in all the excitement I failed to do. Could have been the fish of a lifetime and I'd balls it up with two basic errors.
Far too late but never the less I re spooled both my rods with some new line that I'd never used before but had been assured was the bees knees, and got them both back out again. It wasn't long then before Andrew G was into a fish, and with slightly more professionalism than I had previously shown, was soon lifting the net into what turned out to be a lovely common at 31lb. Despite my stupidity it was looking like we'd chosen a couple of decent pegs and confidence was high.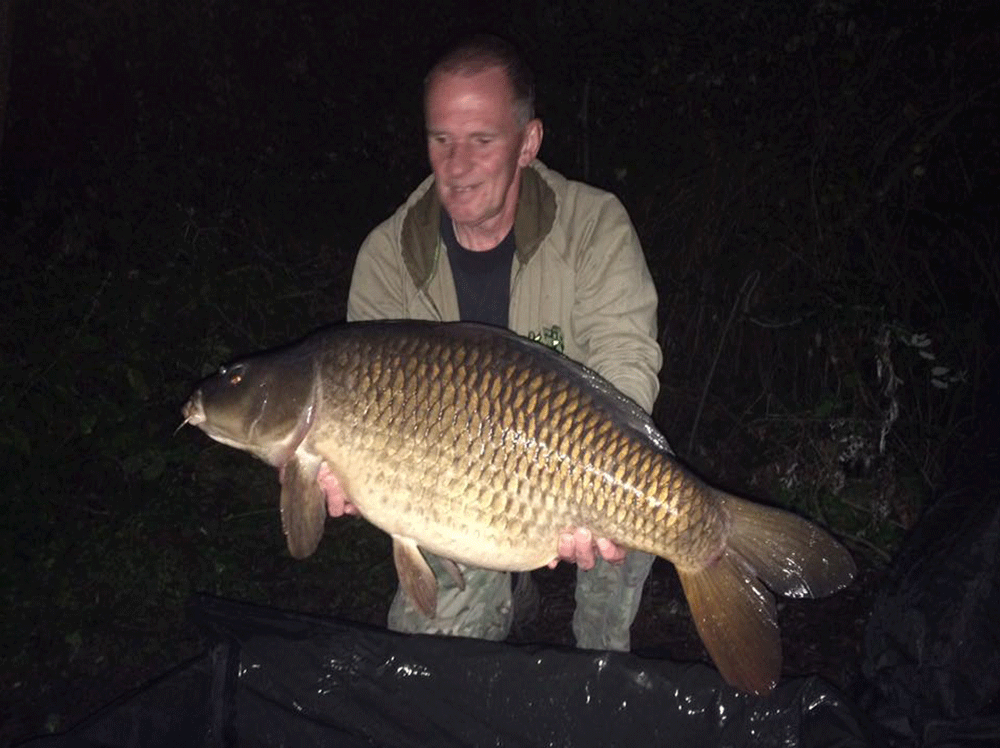 Andrew G 31lb
I was awake and up before first light the following morning, which was just as well because a fella fishing a couple of pegs down came round and asked if I'd do him some photos. I nipped down to his swim and photographed a beautiful 38lb common for him, I didn't catch his name but have since done a bit of Facebook stalking and discovered he is Kevin Arckle and the fish was a new PB for him, so well done Kevin, here's to a few more.

Mighty Melvin 29lb and 32lb
I went back to my swim and decided to ditch the solid bags and opted for a more conventional approach, a simple wafter rig on one rod and my favourite Withy Pool rig on the other with a few spods of boilie round each bait. After a nice full English courtesy of Andrew G it wasn't long before one of my rods was off again and I was into another one. This one was coming in nicely when it decided it would like to get stuck in a weed bed, marvellous. There was no moving it so Andrew E waded out and got behind it and it came out of the weed bed and TWANG, another line break. I could have cried. What a nightmare. The only saving grace was that both cut off's happened close to the business end and both rigs were safety rigs incorporating a barbless hook so I took some comfort in the fact that the fish would shed the rig in no time at all and would not be in any danger of dragging a hook, a lead and a whole heap of line around with it. I'll probably upset a few people here but anyone who users barbed hooks these days' needs to take a serious look at themselves, there really isn't an excuse for it. Throughout history there hasn't been a weapon (which is after all what your hook is) invented with a barb on it that wasn't designed to stay put and inflict damage on retraction, that's a fact so I'm afraid the old arguments carry no sway with me, barbless all the way.

Andrew E 31lb and 34lb
Simon Burbage called in for a visit that afternoon and witnessed what happened next. Andrew E's rod tore off and soon resulted in a pristine 31lb common gracing his net and being safely released. He didn't have chance to get the rod back out before his second rod was away and after a short battle a 34lb common was being photographed. Wow, two 30's in 5 minutes. It didn't end there though because within a few minutes of getting one rod back out it was away again and after putting up a sturdy fight a beautiful 39lb common was being photographed. 3 30's to 39lb in half an hour, absolutely incredible and such a privilege to witness, I think we were all genuinely shell shocked, it did genuinely take away the pain of my 2 lost fish, though to be completely honest it did bring home to me how a couple of silly mistakes cost me what could have been 2 fish of a lifetime, but like I said though, watching a friend land 3 such superb fish one after the other is an experience that will live with me for a long long time. I think it's fair to say we were all blown away.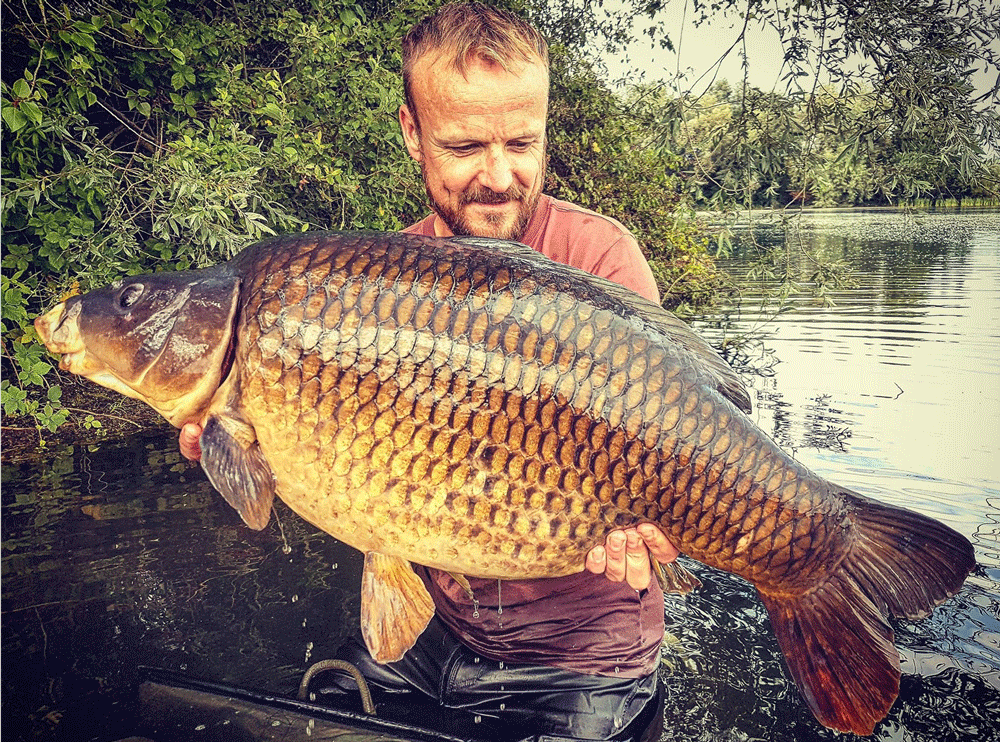 Andrew E 39lb
Word soon reached me that The Mighty Melvin had turned up at the lake and like the maestro he is had landed a 29lb fish before he'd even got his second rod out. Richard Howell, who'd bought his permit at the recent Horseshoe open day had also arrived for his first session and was soon on the fish, landing one at 19lb and following that with a 31lb fish.

Richard 19lb and 31lb
Evening time arrived with no more action for us so we lit the BBQ up and had a veritable meat feast. With burgers, chicken, steak, some sort of kebab, hell we even had Ostrich steak followed by Strawberry trifle. Sometimes it's a hard life being a Carp angler.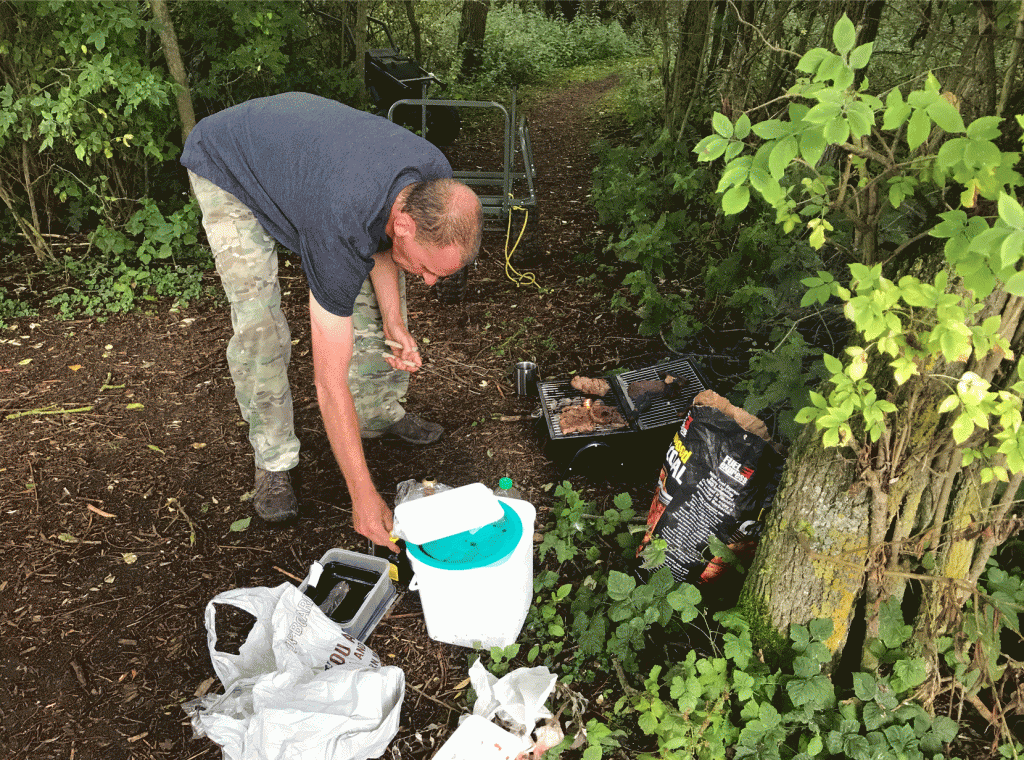 Where's the Ostrich
Andrew E had to leave the following morning so we bid him farewell and no sooner had he left than Karl turned up fresh from Horseshoe and decided to stay for a couple of nights. Boycie and Baz Partington had also turned up by now, Baz took himself off to the Turnaround swim while Boycie did his customary hundred laps of the lake before eventually settling in peg 3 (the awfully named toilet point) after trying his luck briefly in every other swim on the lake. That man has no patience what so ever when it comes to waiting for a bite but it's a tactic that works wonders for him, as shown by the number of times he turns up at Horseshoe and rinses it. The day was passing quietly for me and there was a definite lack of fish movement out in front of me, and with news filtering through that Baz had landed a couple of nice fish, including a new PB at 34lb from the other side of the lake, I was beginning to think I'd blown the only 2 chances I would get, especially when I heard Melvin had just landed a 30 from the other side of the lake as well.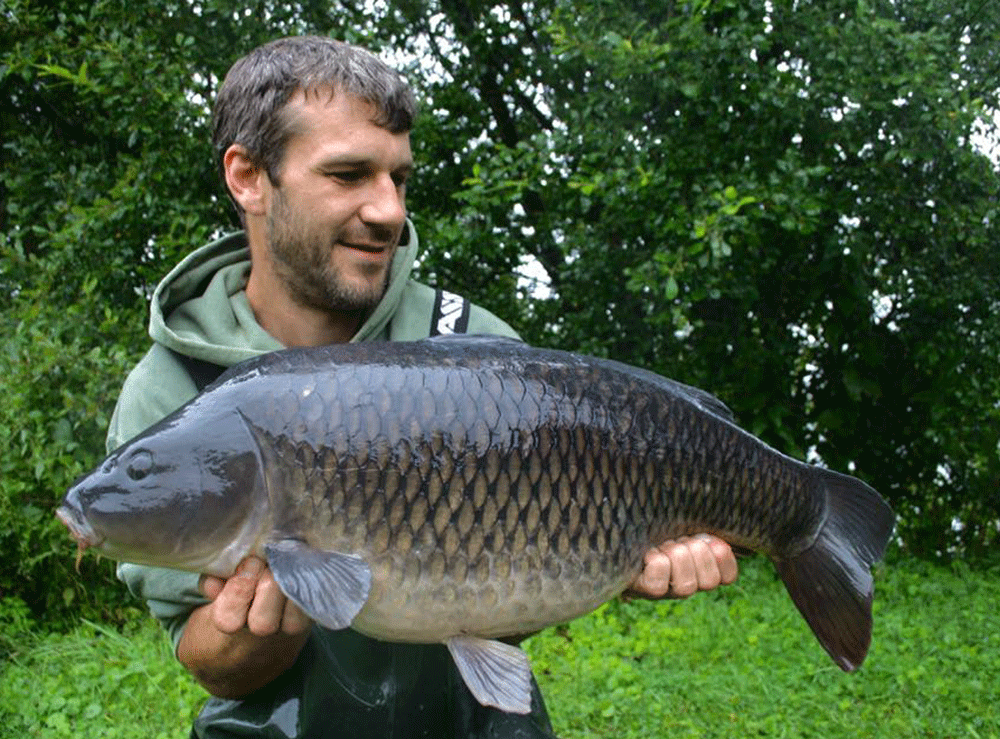 Baz 34lb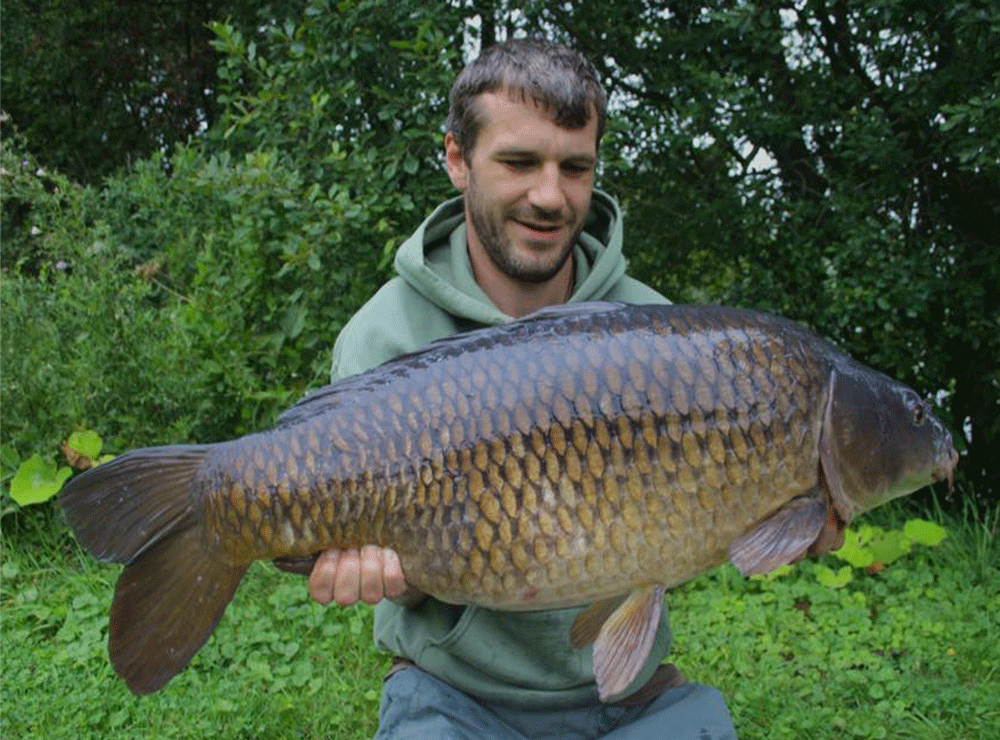 I was slowly drifting off into the land of what might have been when my alarm burst into action and the reel, even though the bait runner was set tight was giving away line like it was going out of fashion. This time I was genuinely on it in a flash and lifted into it and felt the satisfying connection of man and fish. Oh man my legs quickly turned to jelly, I slackened the clutch off as much as I dare and just held on hoping and praying that this wasn't another disaster in the making. I asked Karl to bring my other rod in and to bring his in, which was just as well as the fish kited to my left where Karls rods would have been. Maybe my fortunes were changing, maybe I would land this fish, Jesus Christ I was a bag of nerves as the fish started taking line and swinging round to the left dangerously close to some snags, do I tighten up and risk another line break, I had by this time respooled with my old faithful line, so was hopeful it would hold out but the last 2 runs had me doubting anything and everything, I put some side strain on and slowly slowly the fish made its way back out into open water. It was pretty shallow in front of me so I was glad to see Karl with his waders on walking out with the net. I did actually want to tell him to swim out and wrestle the bloody thing into the net if he had to, but given I couldn't even talk at this stage I left him to it and gently tried to steer the fish towards him, it wasn't coming easily but slowly I was getting it ever nearer whilst my whole body trembled with a mixture of dread and anticipation of imminent disaster, I couldn't lose another, I couldn't. After what seemed like an eternity though I saw Karl lift the net "is it in?" I shouted (not for the first time) he just looked at me, "is it in?" It was, it bloody well was. Karls face was giving nothing away and to be honest I didn't really care what size or anything this fish was, I was just so happy to have landed it. I was still recovering from the fight but with the help of Andrew G we managed to sort the necessary out ready for the weighing and photos, I'd still no idea what the fish was but when I saw Karl struggling to carry it from the water to the mat I got the impression in was a decent fish. My first realisation was when I peeled the net back and lifted the fish up to get the net out of the way, this was a big fish. Having recovered from the fight I went back into jelly mode so Andrew kindly did the honours and weighed the fish.

Yes
The scales went passed the 40lb mark and passed the 41 mark towards 42, I didn't look any further, I'd done it. I had absolutely done it, a 40lb fish from Farriers. I was in dream land, man what a fish. I manged to regain a bit of my composure and though I was still shaking like a leaf did eventually lift the fish for the cameras. I couldn't smile too much, I was struggling to lift it and to come to terms with what had happened but inside I was smiling like Shakira and Rhianna had just turned up at my house and declared it was Party Time. Anyway, let's get that thought out of our heads. With the photos quickly done and the fish returned safely I eventually stopped shaking and collapsed into a satisfied mess. Epic, absolutely epic. I was well and truly blown away. I could waffle on for hours about the pain and the pleasure of this catch and still not do it justice. But that's why we do it, without the pain there would be no pleasure. . That's what does my head in about the Snowflake generation, they've been Molly coddled and protected from failure because "it impairs their development" what a load of bollocks. The strongest steel is forged from the fires of hell. Shit, I can feel a 'That's what's wrong with this World' rant coming on so let's get back to Farriers.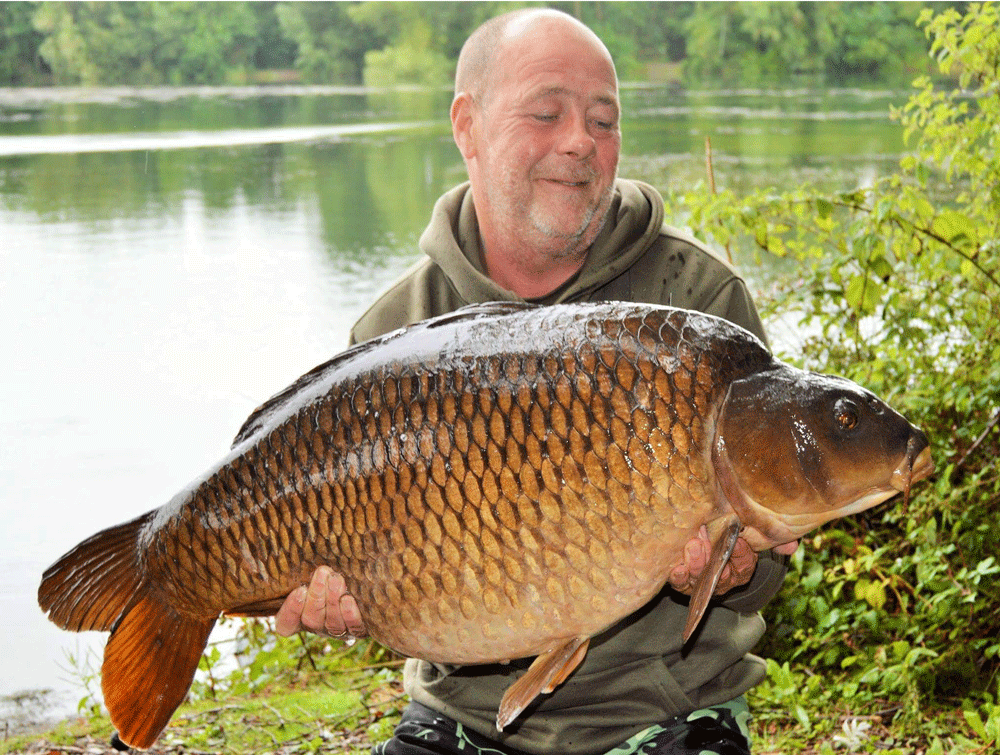 OMG
I eventually came back down to Earth and we celebrated the capture that night with good old fashion fish and chips, and just sat lakeside watching the world go round and thanking our lucky stars we are able to do what we do. We were rudely interrupted by Boycie falling into the lake. I'm not convinced he didn't have a rig in his hand though because it wasn't long before he was into the fish and helping himself to a nice trio. A couple of 30's and a 20.

Nice brace of 30's for Boycie

We were soon sat quietly enjoying the surroundings and digesting the fish and chips when a wonderful rainbow appeared, sent as if just to further enhance the evening, when out of nowhere Andrews's rod roared off and he was soon holding a pristine common of 23lb for the camera. I wished I'd of taken a photo of this fish as its mouth was absolutely immaculate, it had either never been caught before or had been caught by anglers fishing with barbless hooks, you tell me. Either way it was mint, absolutely perfect condition.

Andrew with a mint 23 and a nice plate of Spaghetti Carbonara
Night time turned into day time and sadly it was time to pack up. Without doubt the worst part of any session, I can't tell you how much I hate packing up. Whilst we were packing up word reached us that the afore mentioned Richard Howell, having previously landed fish at 19lb and 31lb respectively had now landed a fish that pushed the scales passed the 40lb mark. Fantastic stuff.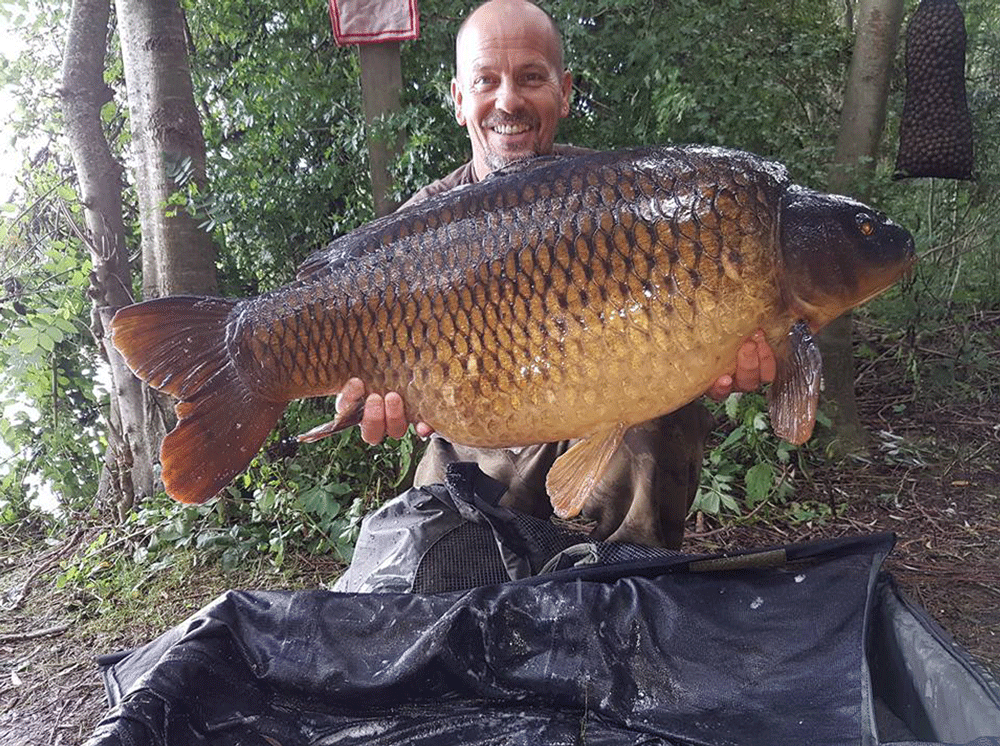 Richard 40lb
Well, that just about concludes my blog for this time, at first read you could be forgiven for thinking it's over self-indulgence on my part and not strictly Carp Society related, but it is Carp Society related, very much so. Farriers is very much a Carp Society water and everything good about the place is down to The Carp Society, from the stocking, to the maintenance, to the rules, to the affordable pricing, everything is down to the good work of The Carp Society. True there are individuals who have excelled themselves to get it to where it is but it's all done under The Carp Society umbrella and whilst I'm always full of praise for the guys that keep it like it is, it's a team effort and The Society is very much at the front, making it happen. Farriers Lake, the true Theatre of Dreams.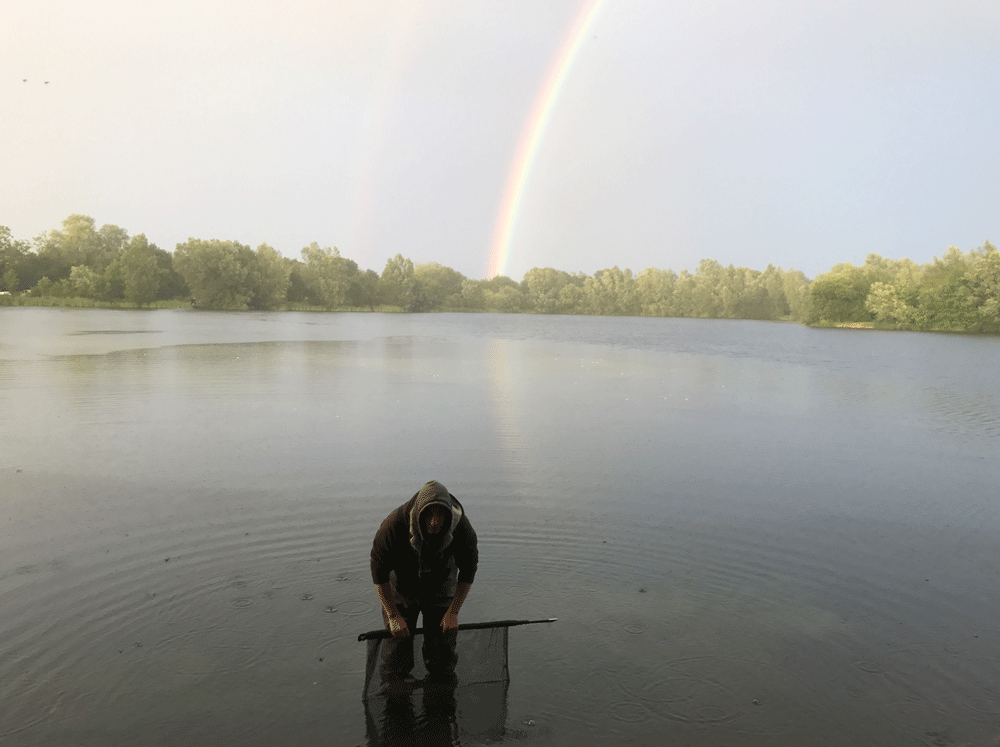 Insert your own cliche
As for me? Well, I've still to get the VS 30 from Horseshoe and there's at least one 50lb fish in Farriers so in the words of that great poet and lyricist H from Steps, I shall "Reach for the Stars".
Till next time
Miles