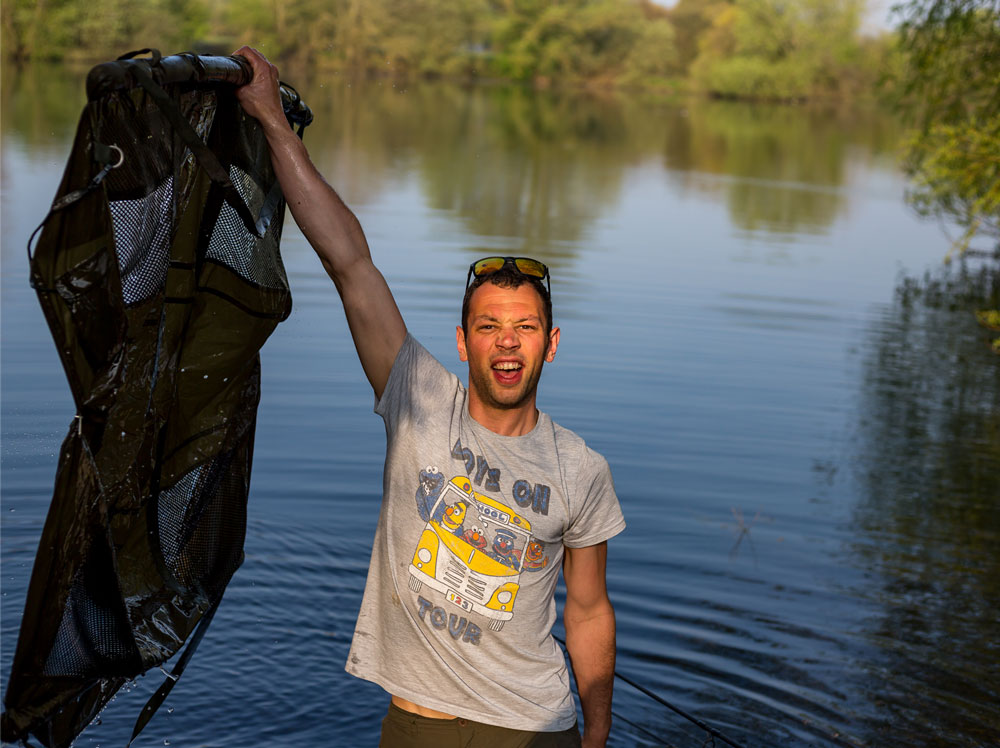 Well, it finally came out. No, not that, that's just a vicious rumour. I'm talking about the sun. After what seemed like an eternal winter the summer has begun to show itself. I know technically it's spring but I genuinely believe we only have two seasons now, winter and summer. Maybe if I scream and stamp my feet belligerently and insist the words spring and autumn offend me, then the powers that be will abolish them. I think that's how it works now isn't it?
Come on Miles, that's not how you start a fishing blog. Hello, welcome to the latest blog (that's better). I've spent most of the last eight or nine years worrying about The Carp Society and Horseshoe and Farriers. I say most but in reality it's been 24/7. We never seem to be far away from potential disaster, that's probably a wee exaggeration but we certainly leap from one crisis to another all too frequently, whether that crisis is real or the fragment of someone's over active imagination is debateable but it's fair to say it's a bumpy ride either way. I'm bumbling on a bit here, has is my want but the latest potential disaster for me was the length of time Horseshoe was taking to recover from the work we'd done over the winter. The 1500 metres of trench we'd dug was still looking like something from the First World War, all the tree work and shrub removal was not healing up, nothing was growing and the anglers were slowly returning and I'm thinking Christ it's looking rough. Then, all of a sudden, the sun pops out for a couple of days followed by an almighty storm and hey presto the lake looks like this and everything is good with the world.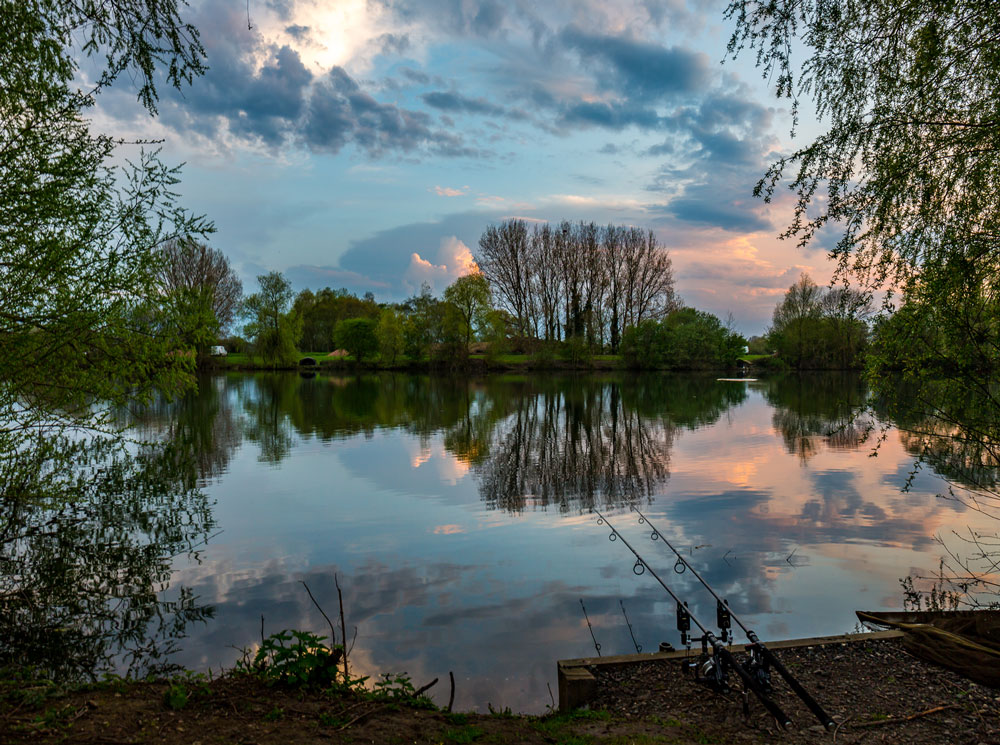 And I think to myself, what a wonderful world
That is of course till the weed pops up and the fish start spawning. Then it's "What you gonna do about this?" and "What you gonna do about that?" and "The Carp Society is only interested in Money" Blah blah blah. And then everything isn't good with the world and I'm back to wanting to kill everybody. But, in the meantime I'm going to enjoy the fruits of our labour while I can. Horseshoe does look magnificent though if I say so myself. It's never going to look or fish has well has it did when you were here but I'm learning to live with that, my psychiatrist says I'm doing really well.
The fish? Ha yes, what of the fish? Well let me tell you, the fish version of the Handsome Prince has kissed them all and they've woken up big time here on Horseshoe. There's been some fantastic fish coming out, both the old and the new, and plenty of them. We couldn't have wished for a better start really. I'll start with Manchester Rob, well, it wouldn't be a blog without at least one photo of Rob, we'd rather see a photo of Kerry but I think Rob must be keeping the rods to himself. Regardless, here's a photo of Rob with an ever growing 32lb Horseshoe Mirror. Top angling as usual.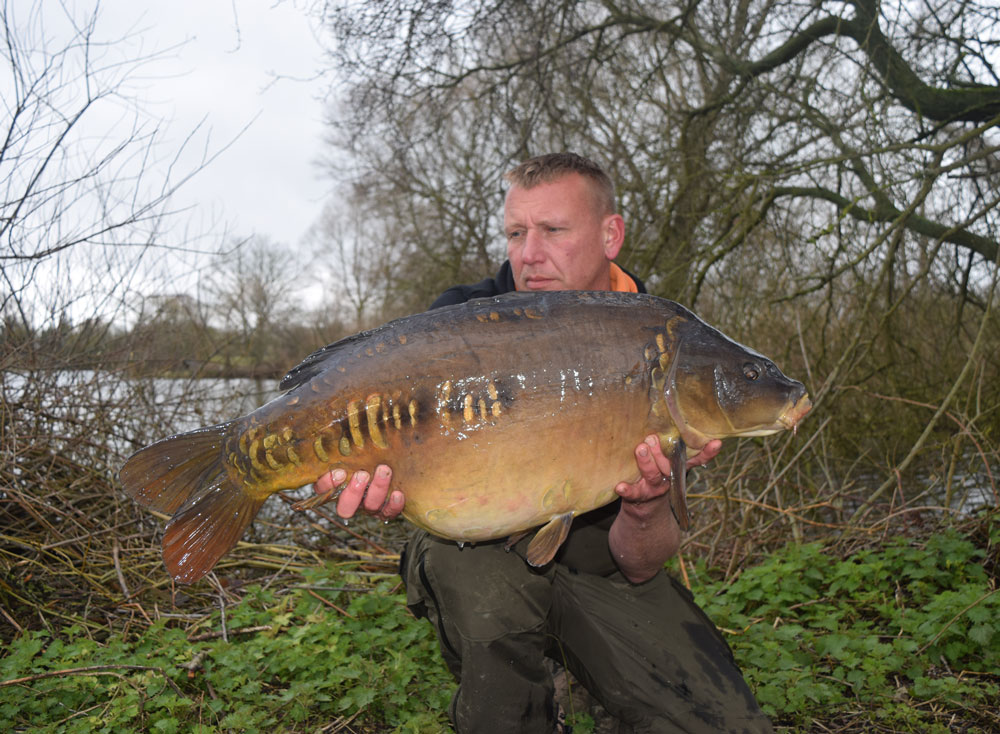 Manchester Rob 32lb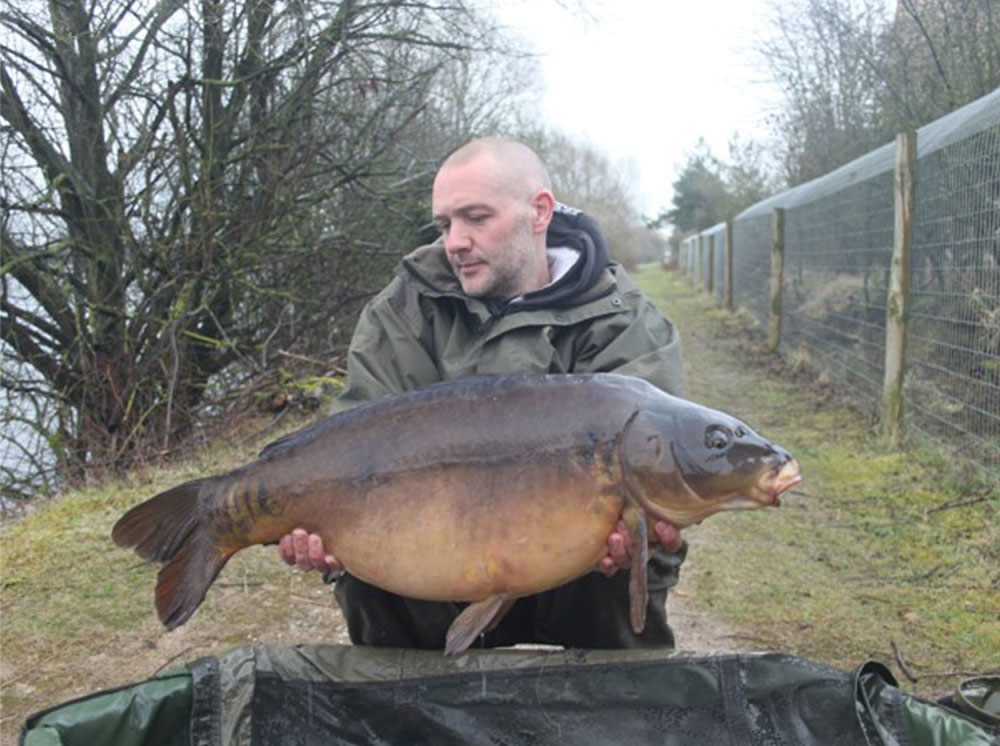 John Morgan
I think you may be seeing a lot more of this guy if he keeps coming. Dave Gaskin has certainly taken to Horseshoe and the fish likewise have certainly taken to him. Fishing short sessions Dave has already clocked up some impressive catches, take a look at these, absolute minters. John Morgan, another angler like Dave who fishes short sessions is never far away from the fish, this one falling to his rods before the lake had really woke up, a solid 27lb cracker with bags of growth to come. Alan Smith is having a great start to his first year on Horseshoe, landing 6 fish last week. Alan's namesake Steve (does that even make any sense) also getting in on the act with a nice trio up to 26lb.

Big Lin, Little Lin

And mighty common, all 36lb of her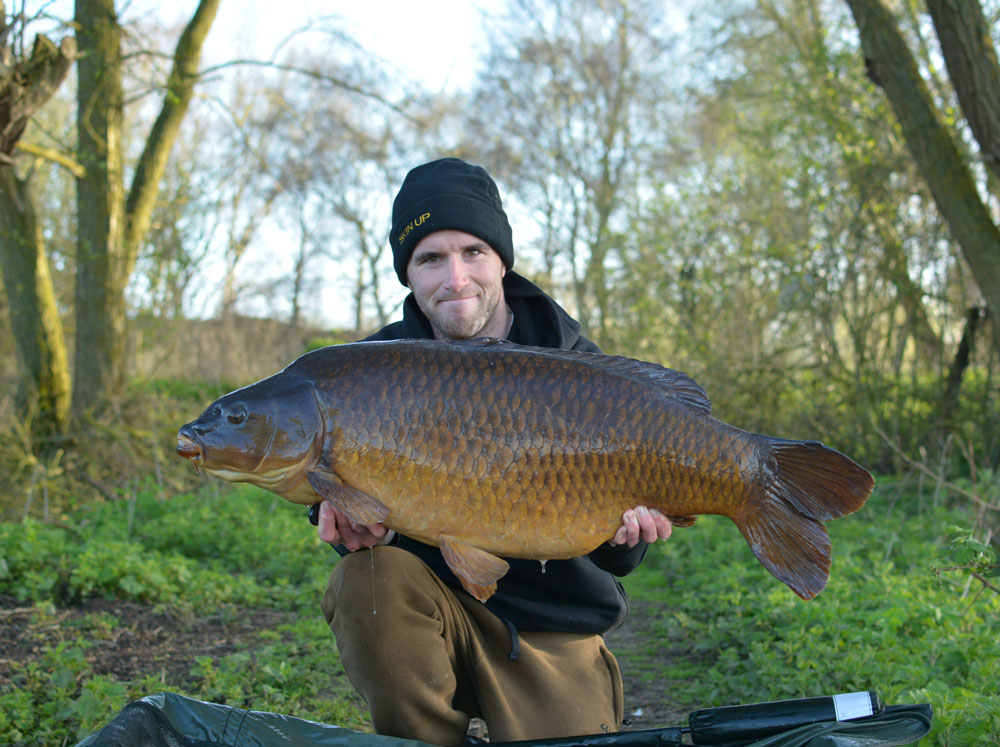 Steve Smith with his latest trio
George Withers very kindly sent me some photos from his last session where he landed several fish to 29lb. Staying on the 29lb mark we've got Alistair with another up and coming beast. Bradley Betteridge catches a few fish here at Horseshoe on the quiet, here's a couple of his latest along with a lovely 9lb Tench. There have been quite a few Tench out that I've heard of and some good ones too but alas I have no photos to show you so you'll just have to take my word for it.

George and Ali with a couple of 29's

Bradley Betteridge
I was fortunate enough to witness and net this next fish for Michael (Rolo) Rowlands and I can tell you it didn't want to go in the net and used all it's 32lb to avoid it but I did manage to scoop it in at the second attempt (Sorry Michael) Despite my hindrance Michael did manage to have is photo taken with this lovely common (What I lacked in netting I made up for behind the camera), (I'm sure Tim Paisley will tell you behind the camera is where I belong as opposed to the front of it, but that's a different story).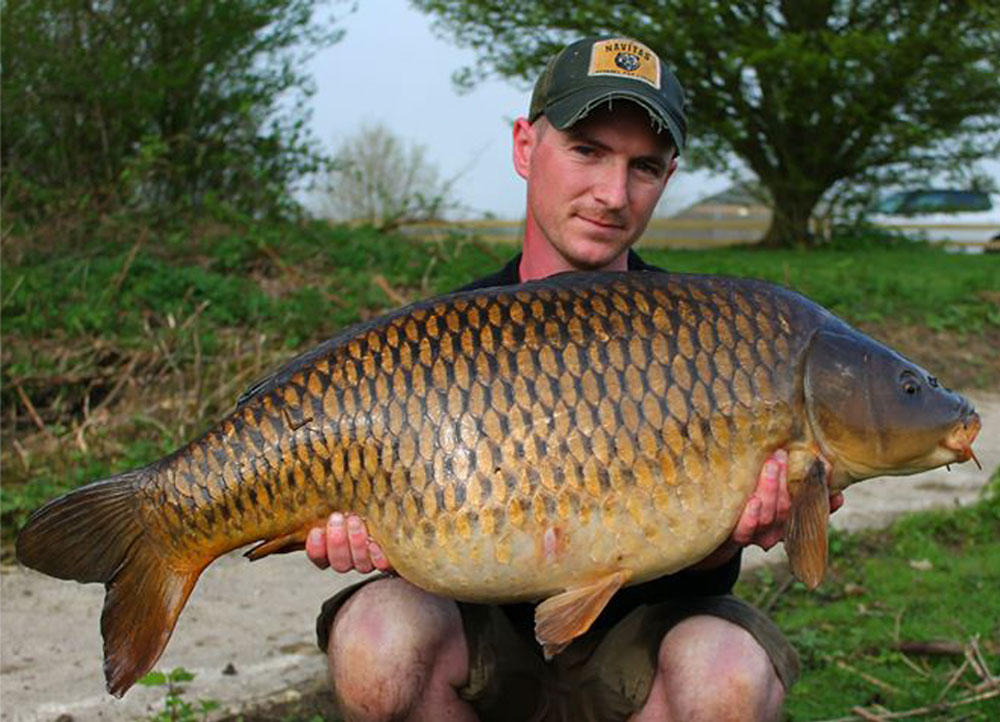 Rolo with a beautiful 32lb Horseshoe common
I'll just break off from the fish captures for a couple of minutes and let you know how the stock ponds are going. I'm a bit obsessive with the stock ponds, probably because it's a new venture for me, and, indeed The Carp Society, The Society has had a few aborted goes at rearing fish but they've all gone Pete Tong for one reason or another. The main reason being that it's not bloody easy and there's a multitude of things to go wrong. This week Andrew Ellis and Ben, who have helped me enormously with all 3 ponds had a day free from their busy schedules and kindly offered to come up and help me out, so I took full advantage and we were able to run the net through all the ponds and grade and move a few fish about. We started at the top pond (the newest). We netted about a thousand (well it seemed like that, may have been a bit less but I bet it wasn't far off) Rudd which we removed, but also in the net we got 450 carp of around the six inch mark, we but these back in the pond to grow on further, it was nice to see them growing on and looking well. We did find a surprise in there though in the shape of this lovely scaled mirror, which is now swimming about in the main lake.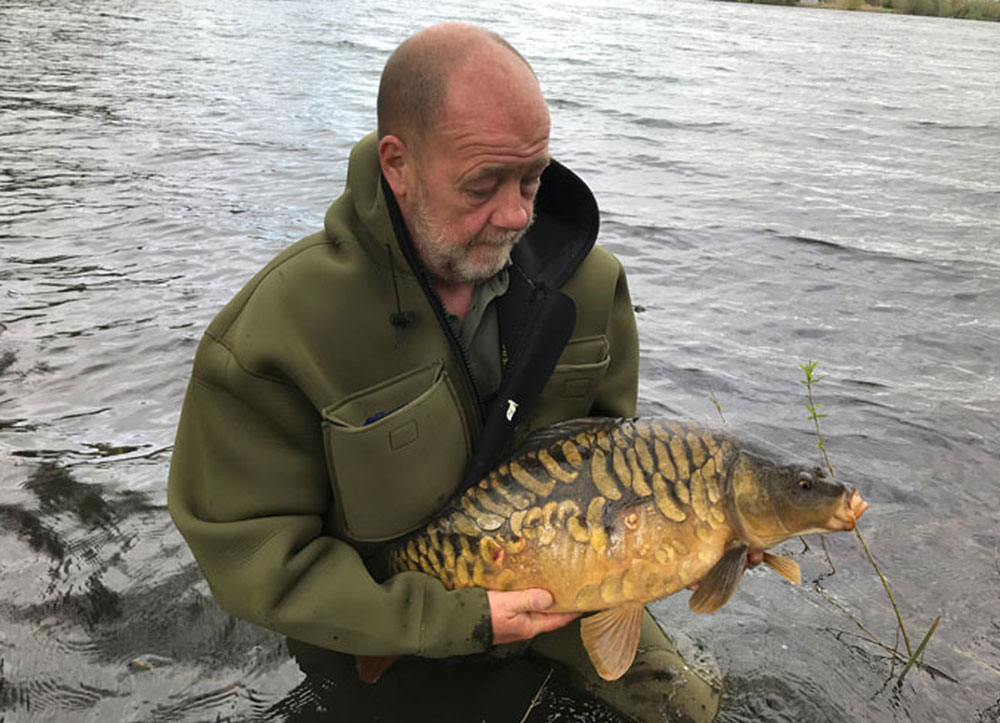 Nice suprise in the top stock pond

and a couple of the babies
We moved onto the middle pond next (The Mounds Stock Pond) we ran the net through that and got a couple of hundred little carp and no Rudd which was a bonus. I know there's more little Carp in there so we definitely missed a few. The water in there was a bit green and smelly so I'm going to drain it down and move what's left in there fish wise to the other ponds, and maybe leave it dry for a while. That's the plan anyway but it doesn't always work like that.
We then moved onto the 3rd pond. I have to say, this pond blew me away. The quality and size of the fish in there was a joy to behold. We didn't weigh any of them but two or three were 20lb all day long with a dozen others not far behind. These fish were three or four years old when they went in the Lagoon stock pond but were stunted having been neglected really before we did all the hard work on the ponds. So to see them has they are now is just amazing and so satisfying, I genuinely can't tell you how pleased I am with them, and indeed all the fish in the stock ponds. It's so rewarding on a personal level but more than that, if we can get it right then it will be fantastic for The Society. It would be inappropriate not to mention Andrew Ellis, Ben and David here and thank them for all the work they have done and all the advice they've given me that has been the major factor in us getting to where we are with the ponds. Like I said earlier there's so much that can go wrong and so many do's and don'ts that it would have been impossible for us to have been so successful without their help, so thank you very much. I will give Ben an extra mention here, all the ponds are fed with Bens cereal pellets. People seem to think you need to feed fish with fishmeal, all I can say is look at the photos and tell me if these fish are lacking anything. You'll all have your own opinions but it works for us.

The lagoon stock pond, so very pleased with these

Right then. Back to the fishing at Horseshoe. Here we have Tom Ison, Tom is fishing in the World Carp Classic qualifier that we are hosting at Horseshoe next month, so he came down to sus it out and within no time at all was on fish and ended up with these three, I think the biggest was an upper 20. Well done Tom and thanks for the photos.

Tom Ison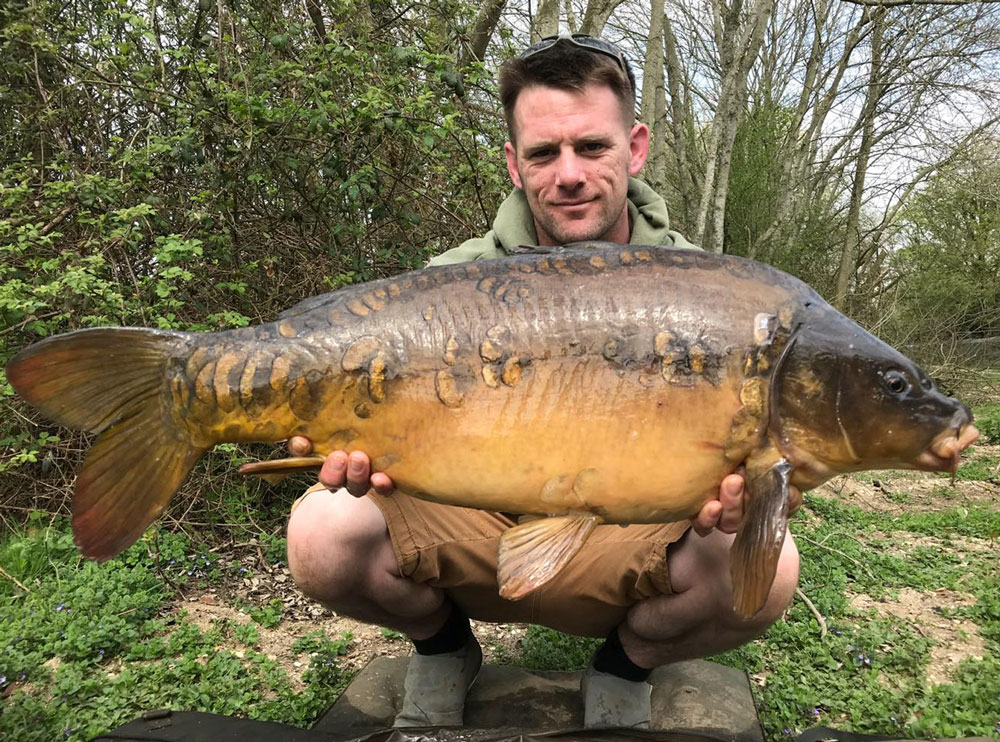 A great result next for Dan Walters, beating his PB twice on a recent visit. Dan landed a 28lb mirror, a 31lb mirror, and a 30lb common. Fantastic result Dan. Well done and thanks again for the photos.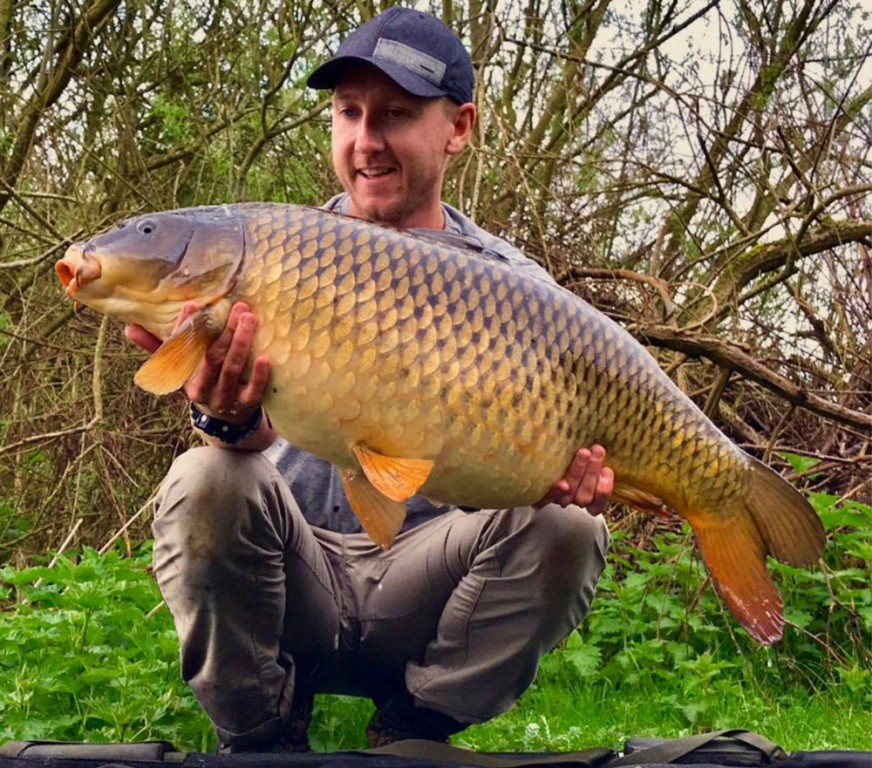 Dan Walters


Justin Hawkins has been catching quite a few recently but tells me he's struggling to get into the bigger fish, I'm sure it won't be long before he's into the 30's but in the meantime fish like this beauty would be welcome any day of the week. Carl O'Brien fished with the Pallatrax lads the other week and caught his first Horseshoe fish, a lovely chunky mirror that's growing on beautifully. Rich Shaw from Pallatrax also managed to get in on the act with this little beauty.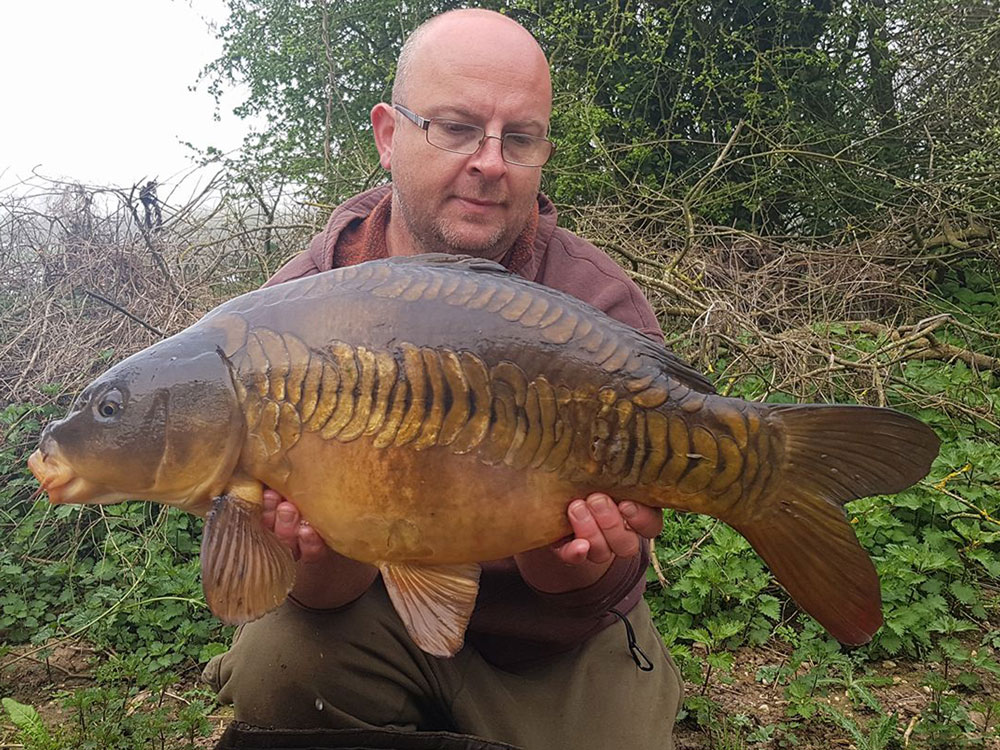 How nice is that fish?

The Pallatrax boys
Ben Steger sent me some brilliant photos in from his visit to Horseshoe with Joe Morgan, they both caught but this time round it was Joe getting into the bigger fish with this wonderful Horseshoe common at 34lb. I love this picture of Ben though, that's how everyone should look when they've caught a Horseshoe carp, fantastic picture, as are these scenic ones, just brilliant.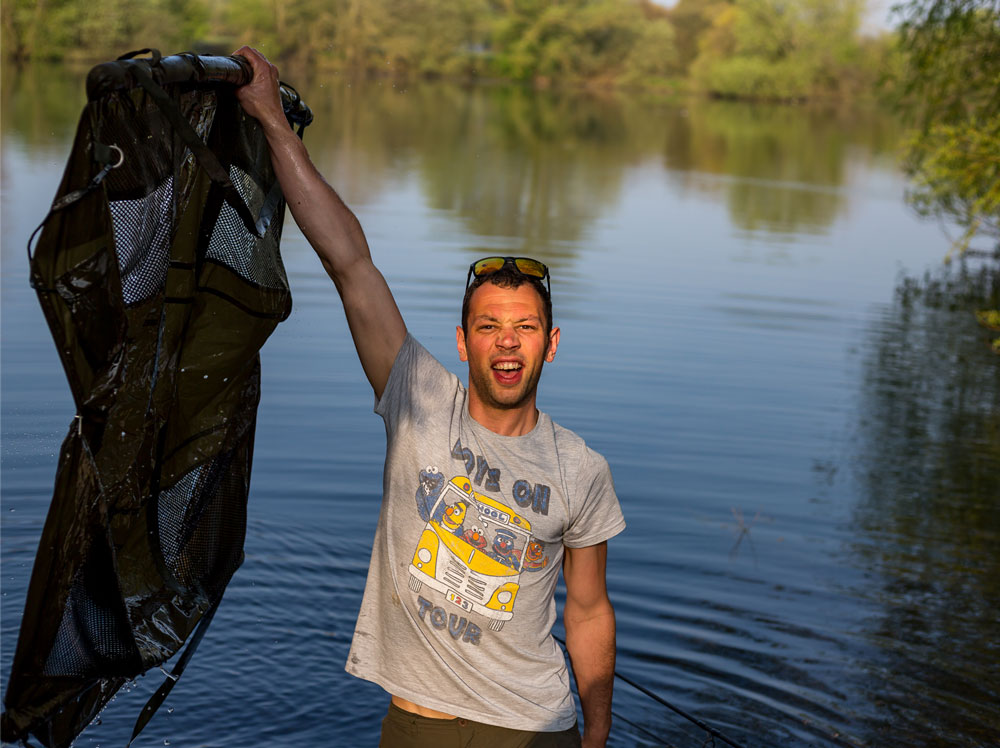 That's what catching a Horseshoe carp should feel like

Joe Morgan with 34lb of Horseshoe magic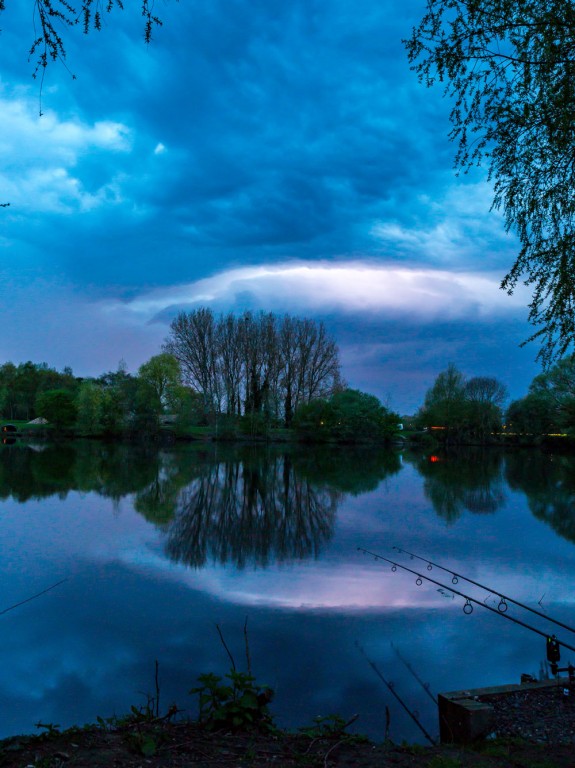 More stunning photos from Horseshoe courtesy of Ben Steger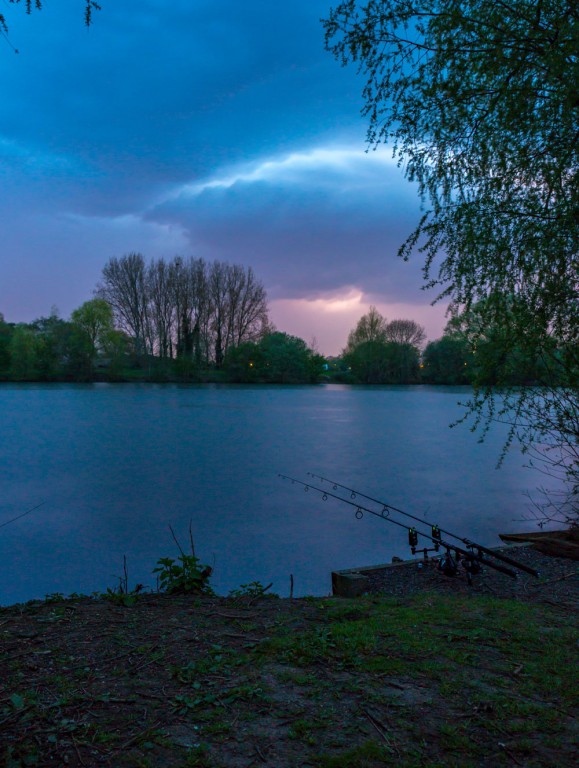 Last but by no means least for the photos from Horseshoe this blog is Tony Barton with this wonderful 38lb Horseshoe mirror. What a result and richly deserved. Well done Tony and thank you for sharing it with us. Top fish for a top man.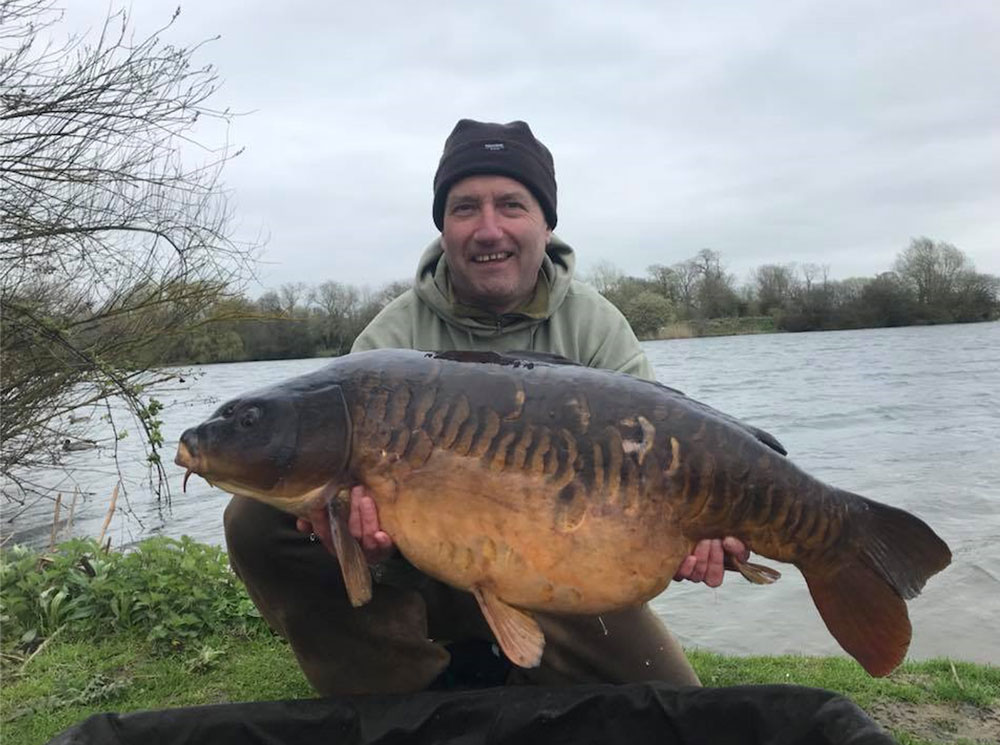 Tony Barton 38lb Horseshoe mirror. Will she go 40?
Other news now and we at The Carp Society are delighted to let you know we are bringing a book out called 'Still for the love of Carp', the list of contributors reads like a who's who of Carp anglers. With chapters from the likes of Rod Hutchinson, Ian Chilcott, Bill Cottam, Chris Yeats, Dave Levy, the list goes on and on. You'll have to buy the book to believe it. The book launch will be at our annual Sandown show over the weekend 24/25th November this year where many (if not all) of the contributors will be on hand signing books on request. There's a very limited amount of leather editions available but these need to be ordered sharpish as they are already going fast. If you want a leather bound edition then phone the office on 01367 253959 to place your order, I believe a deposit is required so have your card ready. Limited edition numbered hard back copies can be ordered before Sandown, so again phone the office to place your order. Interest so far has been good so get in with your order before they've all gone is my advice. With Christmas just round the corner from the Sandown show, it's an ideal present for the Carp angler in your life, even if that's yourself. If I haven't sold you on it yet, there's even a chapter from yours truly. Those who know me wont be suprised that my piece is an in depth technical write up of rig mechanics and how accuracy is so important. Nah I'm only kidding, it's just more of me rattling on, but don't let that put you off, the other chapters are pure quality.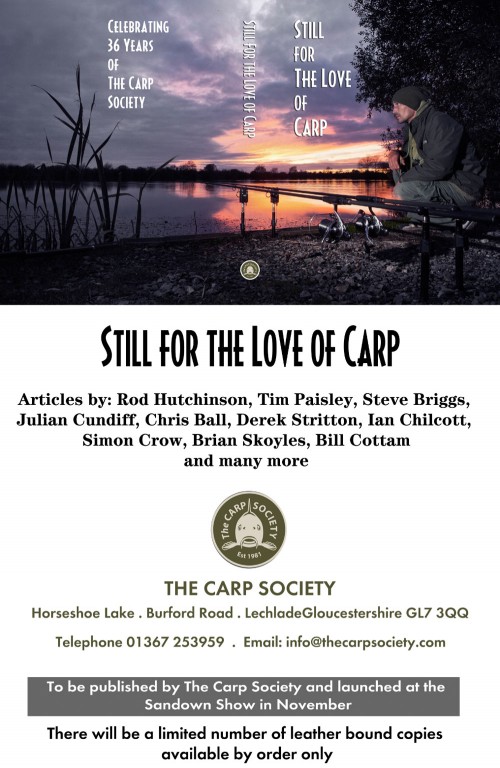 Not to be missed
That's about it for now then. I was hoping to tell you how I smashed France on a recent trip, but one fish isn't exactly smashing it so we will skip over that. Suffice to say despite my lack of success with the rods I had a great time with some great company and a lovely little surprise visit, and a few of my friends caught 50's, so all was well.


Till next time
Miles