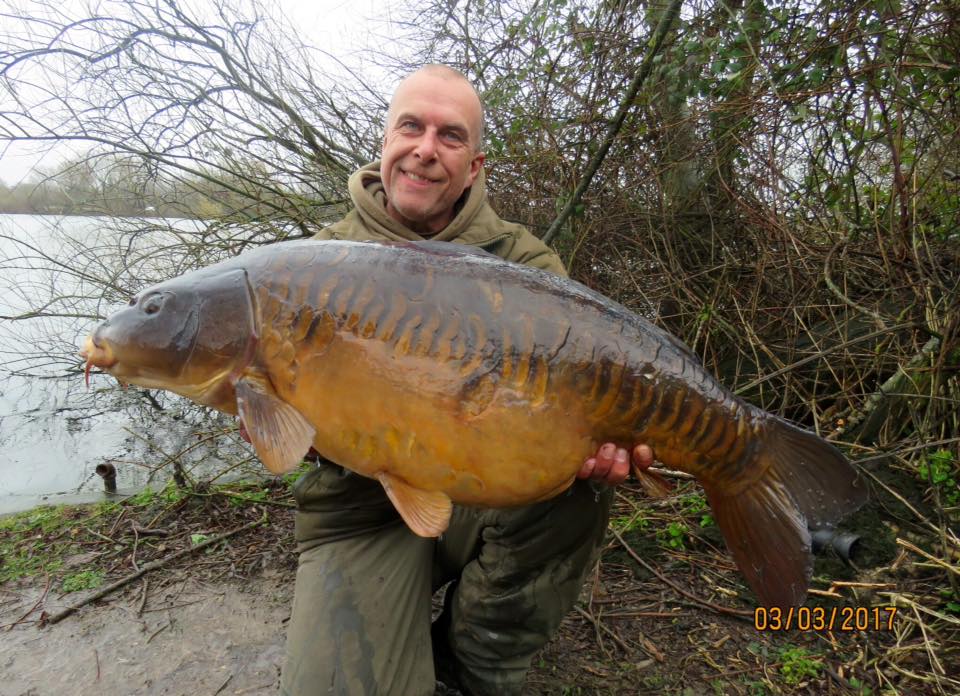 March 2017
Well! Where do we start this month? In the last blog I mentioned a longing for the mundane. Life continues to be anything but mundane in The Carp Society world. I suppose I should really start with the news that we have all been waiting for, the legal battle with the previous board of Directors is finally over. We received notification that they were now willing to accept that the decision to remove and replace them was legal, binding and above board. They also agreed to pay some of our legal costs. I've had loads of messages of thanks and good wishes and that I must be pleased with the outcome. I am very, very pleased with the outcome but my overwhelming feeling is one of disappointment. I'm disappointed that they tried to steal The Society in the first place, I'm disappointed that once they had been rumbled they didn't resign, I'm disappointed that once they had been removed they tried to take us to court knowing full well they were guilty as sin. But most of all I'm disappointed that they put The Society in a vulnerable position and left us wide open to possible bankruptcy and at the mercy of other people who saw fit to try exploit The Society's position for their own wants. I can't say too much at the moment but believe me there has been some very immoral behaviour by people other than the deposed former directors. As they say though, it will all come out in the wash. Suffice to say that unfortunately not all the rotten apples are in the one barrel.
Anyway, I don't want to start this blog off on a negative. I may revisit later on but we'll see how we go.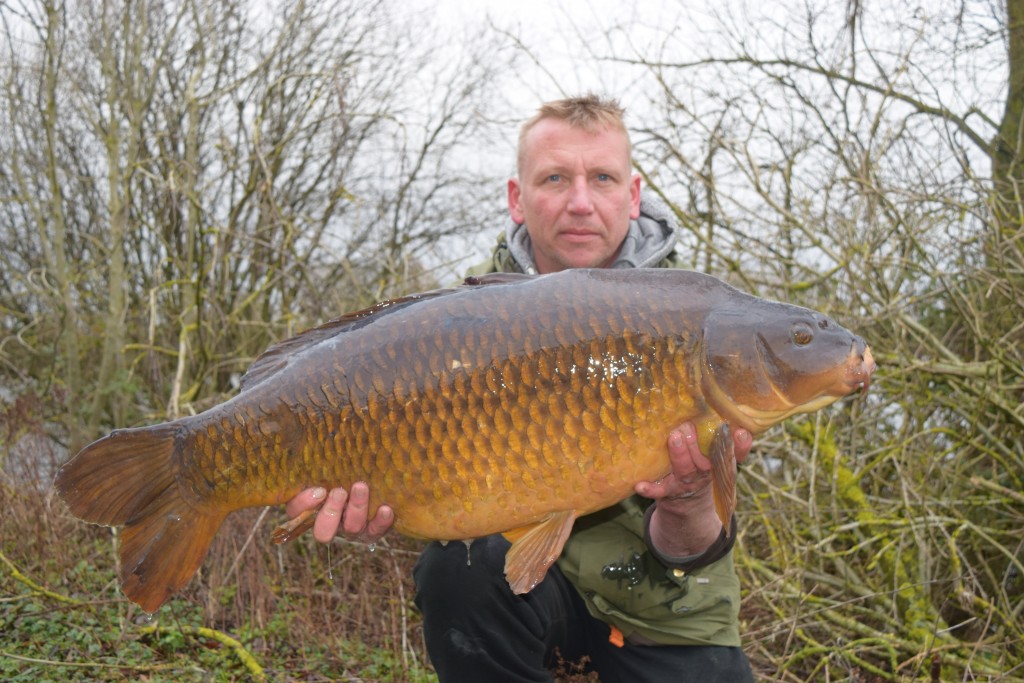 Manchester Rob with his 30lb Horseshoe common
There's a lot to be positive about though. On the fishing front, Horseshoe took us all by surprise when it sprung into action the end of February. Manchester Rob started the ball rolling with a 7 fish catch, then returned the following weekend and bagged himself another 13 fish with a new Horseshoe 30 being the pick of the crop. I shouldn't really be surprised because Rob is a top class angler, you won't find him in any magazines or websites but trust me, Rob has probably caught more Horseshoe fish than anyone, ever. He simply turns up, does the business and leaves without making a fuss. He only sends pictures to help me (and The Society) out. So fair play to him and thank you very much Rob. Robs girlfriend Kerry also got in on the action landing herself a new personal best at 25lb, great result for them both and a great start for Horseshoe.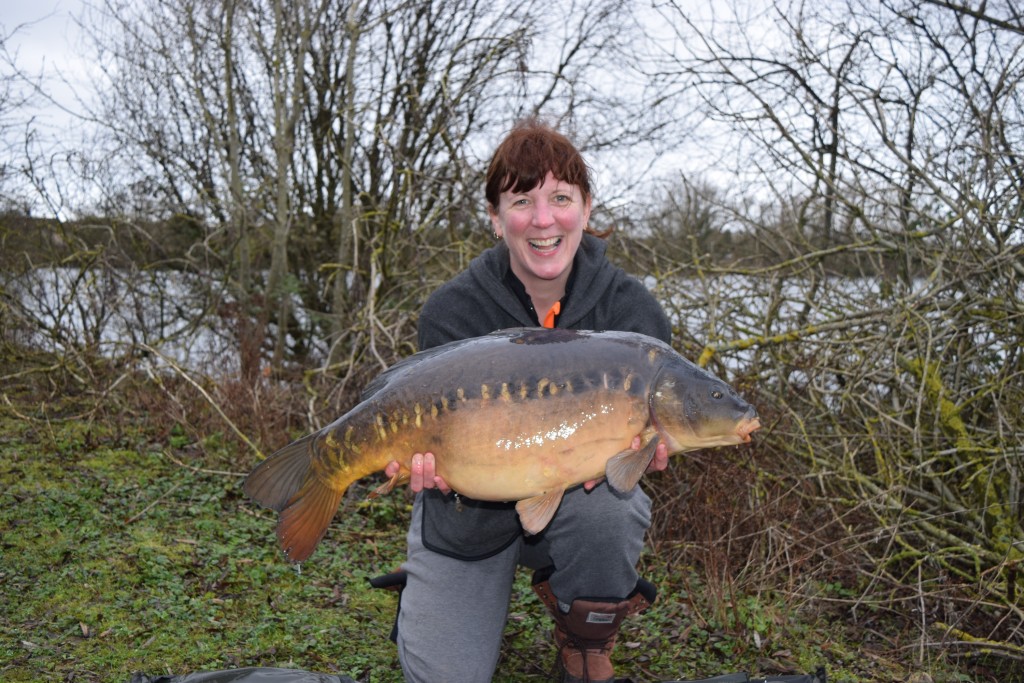 Kerry with her new PB, a lovely Horseshoe 25lb mirror.
Andrew Konsoumis carried on the good start with an impressive 11 fish catch, with fish to 29lb. Again, like Rob, Andrew returned a week or so later and went one better (weight wise) with a fantastic Horseshoe Leather that pushed the scales past the magic 30lb mark. Good angling from a good young angler, well done Andrew. Jon Lane is another one of our anglers who quietly goes about his business on Horseshoe, and does it quite successfully, you'll usually find Jon far away from the maddening crowd, usually with a wet net and sling, his latest visit was no exception, landing a couple of lovely Horseshoe mirrors of 22lb and 23lb respectively.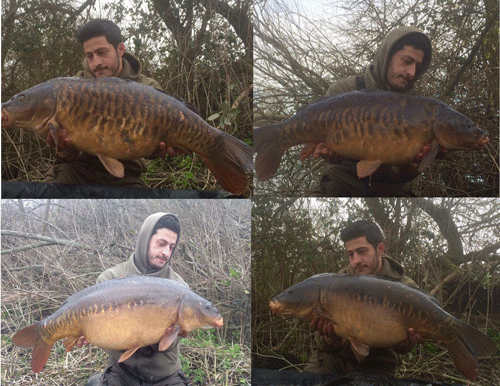 Andrew Nailing them on Horseshoe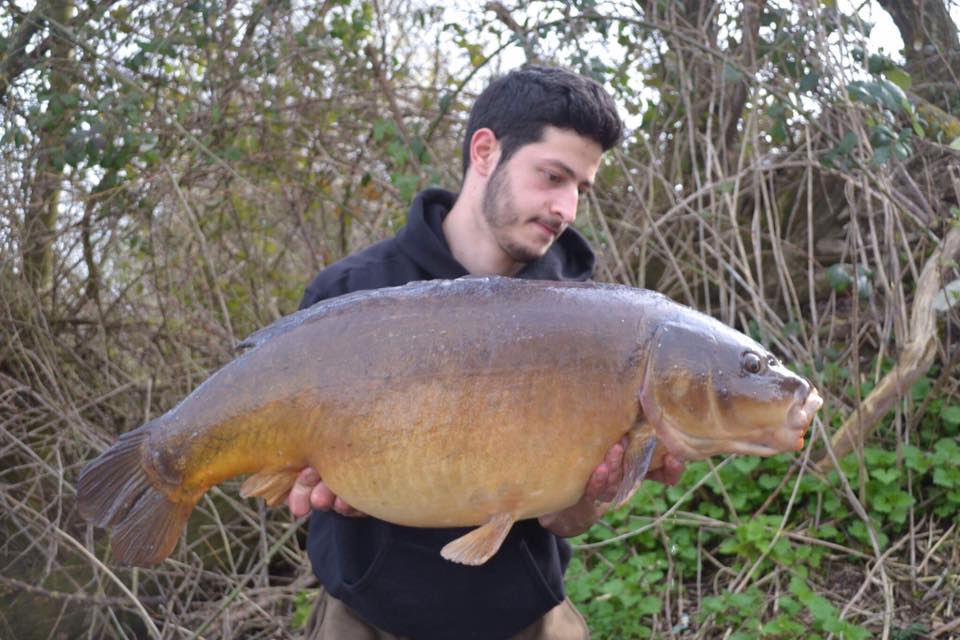 Capping it off with a Horseshoe 30
No Horseshoe blog or catch report would be complete without mention of the Mighty Melvin, so you won't be surprised to see he features heavily again. Melv turned up with the lovely Julie and celebrated his birthday in style, landing 7 or 8 fish, including a new Horseshoe 30 and one of the most sort after fish in Horseshoe, an absolutely beautiful mirror at 36lb. This fish came out at 38lb last summer so to see it at 36.6lb at the beginning of March is a good indication it could well do 40lb later on in the year when it's had a few more months munching. I was in his swim when he caught the new 30 and let me tell you, it's a beast of a fish, with lots of growing left yet, I think the sky's the limit with that one, a true testament to the quality of the stocking that has gone on at Horseshoe, there's quite a few of the VS fish pushing through the 30lb barrier now and still plenty more not far behind. Exciting times indeed. I genuinely think it won't be long before the fish in Horseshoe have equalled and surpassed the fish in Farriers, and if you know the quality of the fish in Farriers then you will know what a bold statement that is but it's one I stick by and firmly believe. There you go, I can't get much more positive than that.

Jon Lane
Back to the catches and George Withers was back on the fish the other week, landing 4 or 5 good quality Horseshoe mirrors, one of them looks like a leather to me but I know if I call it a leather I'll get a dozen emails saying it's a mirror. You watch, now I've called it a mirror I'll get emails calling it leather. Anyway, if you look closely at the said leather mirror you'll notice a healed pike bite towards its tail end, I recognise this fish when it was a lot smaller and the wound was fresh. It looked a hell of a mess so we treated it but in all honesty I didn't hold out a great deal of hope for it so I'm absolutely delighted to see it healed and growing nicely. A great advert for treating any damaged fish. Medical care does work if you use the right stuff and if used correctly so please take heed and always have some with you when you are fishing and make sure you use it.

A nice trio for George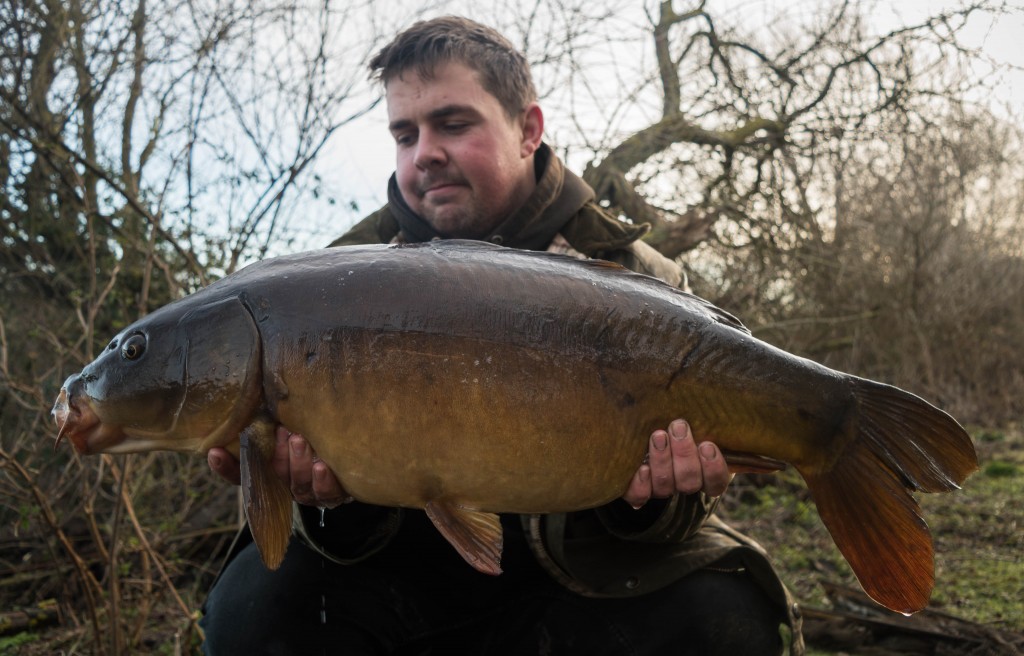 Healing nicely

Not to be out done, Georges fishing buddy Tom Finch-Jones also got in on the action landing good fish of 15lb, 19lb and another impressive VS fish that pushed the scales passed 30lb, again, a Horseshoe belter. Steve Smith, after a couple of winter blanks finally got a nice reward in the form of this lovely deep mirror at 24lb, again another quality Horseshoe fish that would grace anyone's album. Well done Steve, let's hope it's the first of many in 2017.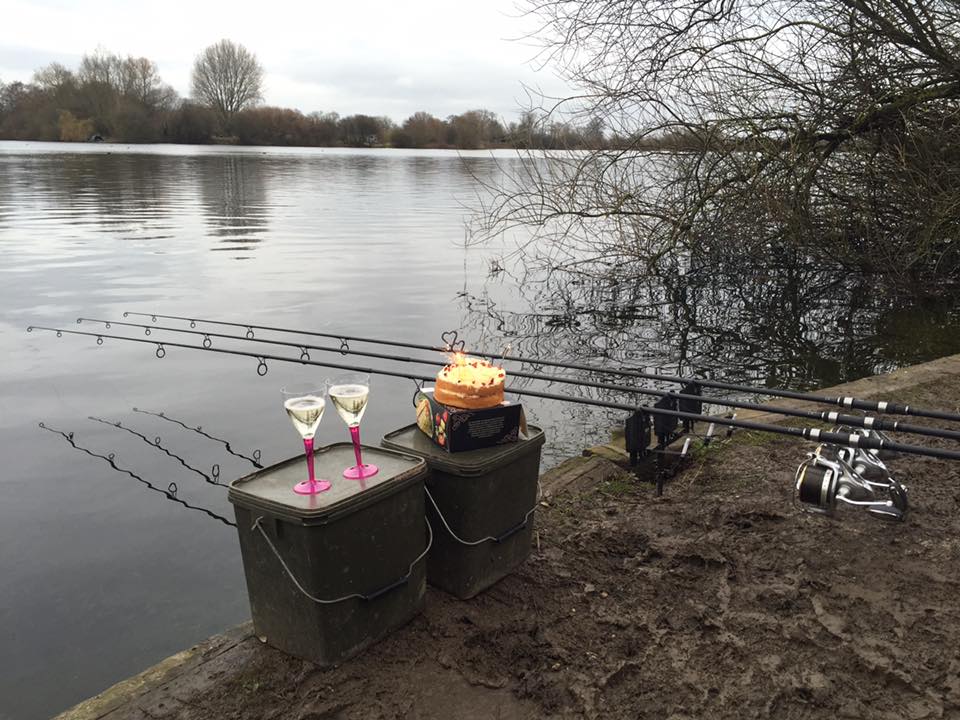 What a birthday session for Melvin
Going back to the opening paragraph now, to be more specific, the legal battle. If I tell you the costs we have incurred could have bought a house I would not be exaggerating. All you young Carp Tigers could do worse than instead of trying to chase a few quid off your boilies through sponsorship, get your heads down at school, get some qualifications and become a lawyer. You'll be living on Easy Street the rest of your lives. Anyway back to what I was saying, the legal fees have been incredibly high and even though the other side have had to pay £40,000 of our legal costs, we are still left with a considerable outstanding balance. The fundraising we have done so far has been a bit of a mixed bag to be honest, don't get me wrong we have had a big result from a small group of people and I thank you all, each and every one of you who have contributed, from the bottom of my heart, but I can't help but feel if we had of had a small result from a big group of people we would be almost there. When we released the press statement on our facebook page saying the case was won we had 30,000 hits. Now if each and every one of those people would of sent us £2 we would clear the balance and have some left over for jelly and ice cream at our celebration weekend (July 15th-16th, more news to follow on that). So here's what I am suggesting, if everyone who reads this pays £2 into the PayPal account sales@thecarpsociety.com that would be a great help, I reckon that should bring in a tenner. Now if you all each also persuade a friend to do the same, we will be on the way. I wouldn't normally pester anyone for money but I'm too old and ugly to go back on The Game so unfortunately we need your help. There will be plenty of fund raising events for the foreseeable, so you are going to get sick of it, but the faster we get the money the least time we will mider you. Whilst we are on the fund raising subject, it's been very noticeable that the bulk of our support has come from the over 50's. It seems to me that the older generation care very much for The Carp Society, whereas the younger generation don't really care one way or another, which is a shame, it's understandable but still a shame and something we need to address. In 5 or 10 years' time when the Otters have completely decimated the fish stocks in every unfenced water, which they will, make no mistake about it, has sure as eggs is eggs the otters are going to wipe public access waters out, of that I am certain. When that happens, all that will be left are fenced waters that will, again, without doubt, double, triple and quadruple in price. You need an organisation like The Carp Society to run waters that are affordable to the everyday man and woman. The Carp Society as I see it, has two main functions; there may be a thousand off shoots encompassed in that but the two main criteria for The Carp Society are to look after the Carp and to look after the Carp angler. We do that by providing first class fisheries at an affordable price and fighting actions and legislation that puts the Carp in danger. Those actions could be poaching, illegal imports, poor fish care, predation, the list is endless. If we are going to carry the fight then it's much easier to get listened to if you have the backing of a big membership. The RSPB carry a massive amount of clout because it carries a massive membership, that's exactly the kind of support The Carp Society needs. It's no good us going to the government and saying" we want to see an end to Otter predation and we've got 20 members behind us". We need to be able to go and say "We've got thousands of members behind us and if you don't vote with us we will vote against you" that's how you get things done. We need to pressure the EA for support. The EA get millions of pounds a year from angling, if we can show them that that money will not be available to them without their cooperation and support for us, then again, that's how you get things done. Angling is in imminent danger and we all have to band together to change things. Join The Carp Society, Join the PAG and help us fight for the future of fishing. If you choose not to, then you are choosing to let it happen and when your day ticket costs more than a Premier league game, you'll have no one to blame but yourselves. Here endeth today's lesson.

Tom with another new Horseshoe 30
Just quickly, while you're still here. Quite a few of us have received very complementary comments and thank you's for our efforts in preventing the theft and consequent sale of The Carp Society. Your comments have been great and it's nice to be recognised for doing the right thing. Loads of people deserve credit, different people picked up the baton at different stages and I'm not going to name them all because that's not what it was all about. I would however just like to pick Maggie Stritton out if I may. Maggie is Dereks wife and I can only imagine what she must of thought when Derek arrived home one night and said. " Hi Maggie, I'm now the Chairman of The Carp Society and I am being taken to court and face the possibility of being sued and left with half a million pounds in legal costs, what's for tea?". But bless her, not only did she support Derek, she has worked her socks off and been to every fund raising event since. She's been to Sandown, Brentwood, Five Lakes, and Trapesed up and down the country collecting auction items and much much more. The lady deserves a medal.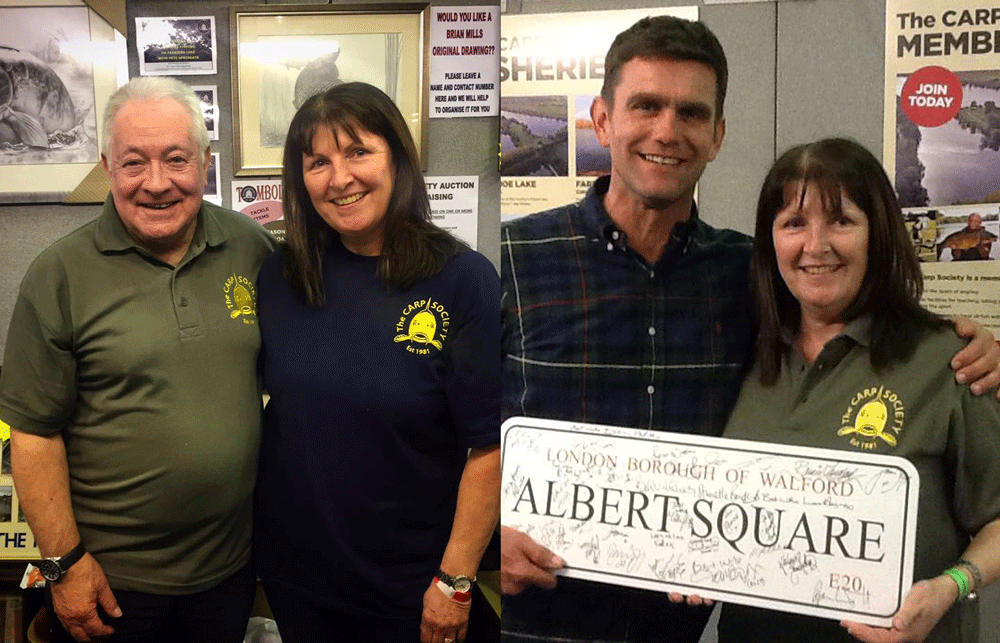 Mr and Mrs Stritton, or is it soon to be Mr and Mrs Maslen?
Right, let's get back to the lakes, I think I've waffled on enough for the time being. Work still carries on at all our lakes, we've a work party this weekend on Horseshoe to do some last bits of maintenance and repairs before the season properly kicks off, Hurricane Doris did her fair share of damage so there is a lot to do. Same with Farriers, Doris did her best to blow it away, so the boys have been busy down there putting things back together and clearing up. I am hopeful of getting a bit of a road up to swim 6 on there but that's all dependant on getting the planning's and what have you but its definitely on the list of things to do. We've got the waterless toilet up and running on Little Farriers now, the swims have been made a bit more user friendly so things are looking good, bookings on Little Farriers are coming in thick and fast, there's still a few places here and there available but not many. So if you're thinking of booking I would act a bit sharpish and get in before it's sold out. Steve and the boys at Langholme have been beavering away most of the winter so I expect it's all ship shape and Bristol fashion up there and they are good to go. All in all I'm pleased with the lakes and expect great things from them. It's up to you lot now to get yourselves on our lakes and catch some fish. We've done our bit.
I think that's about it for now. With lots of fish coming out of Horseshoe and lots going on behind the scenes I don't think it will be to long before another blog appears but in the meantime thank you all for your support, keep it going and help us to help you.
Till next time
Miles