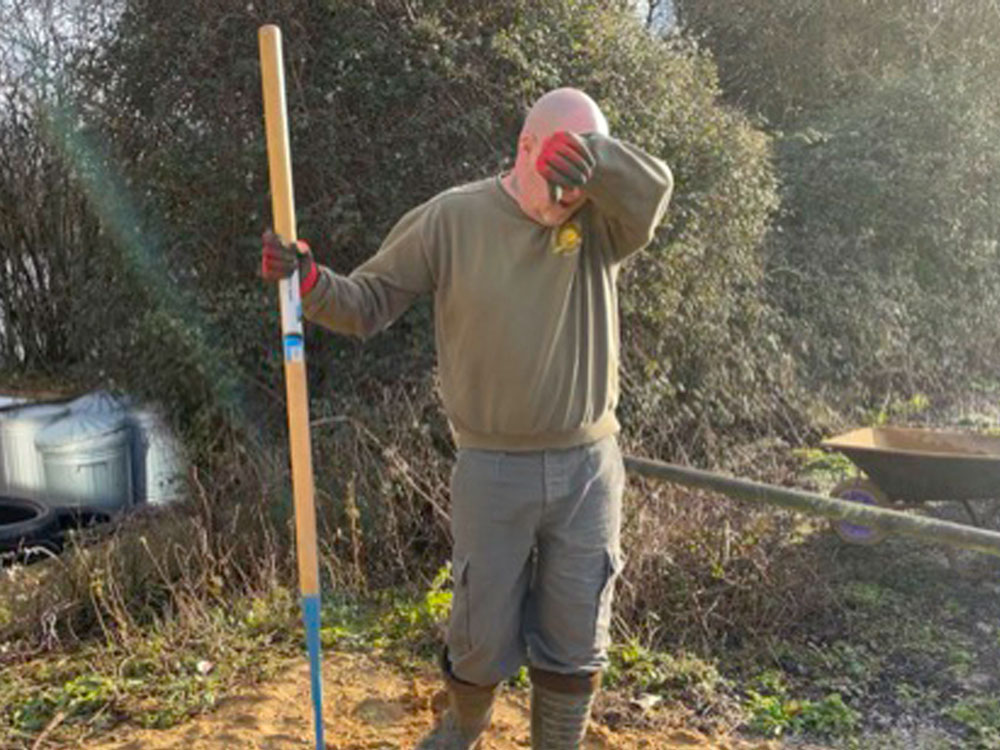 Welcome to my world
I recently wrote an article in the first edition of the Carp Society's new magazine 'Carp Fisher Revisited'. The article was about the development of our fish rearing project at Horseshoe Lake. The article mainly focused on the construction of our 4 growing on ponds and the work involved. I think (from memory) the article finished with the structural completion of all the ponds and a few thoughts on my hopes and aspirations for the rearing programme. So I thought for this article I'd bring you up to date with what's happened since then.
It's probably been about a year since I wrote the aforementioned article, and what a year it's been, what with the plague and the flooding it's sometimes felt we have regressed back to biblical times. But, we keep going, you've got to. No one ever said it was going to be easy but Jesus; a few breaks here and there wouldn't go a miss.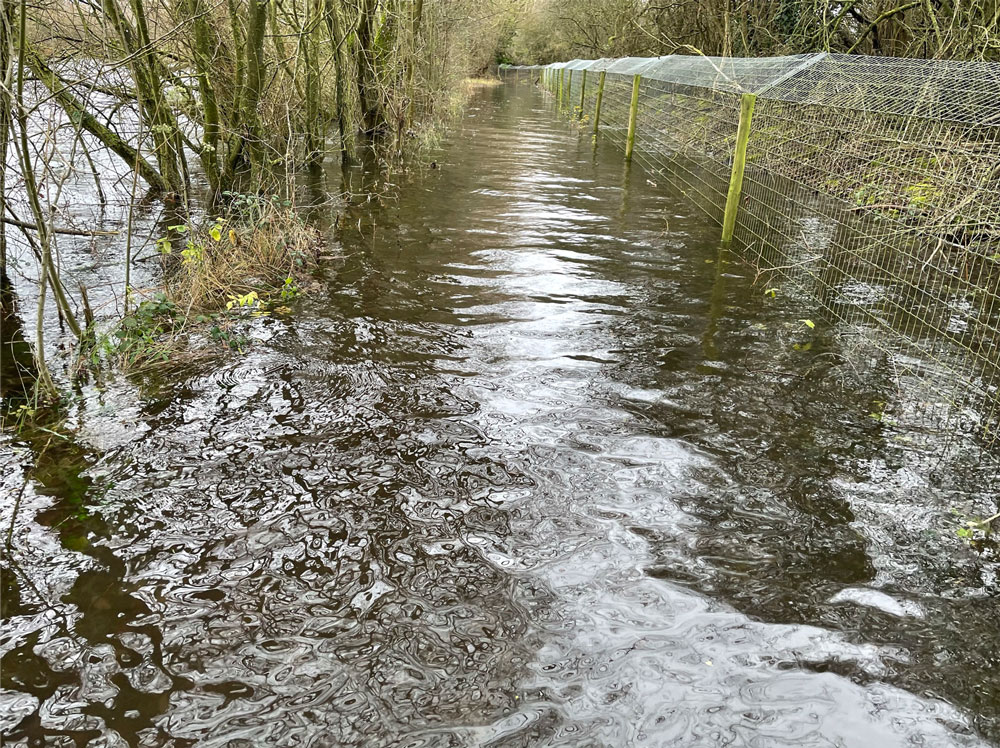 Where's Noah when you want him?

Anyway, we've been feeding the ponds regularly, checking the water quality, checking the oxygen levels, and keeping an eye on the water levels, generally keeping the plates spinning. The aerators have been a God send. If I was to offer anyone any advice with regard to rearing fish it would be to not even go there if you can't get some sort of aeration system set up, it really is that important. Being on the over cautious side of the fence I have our aerators running well above the times and durations that I see people recommending, but I've experienced oxygen crashes at times and in conditions that no text book would ever tell you an oxygen crash is likely to happen. In my experience a crash could happen anytime and often does. I liken aerators to seat belts, you only need a seat belt when you crash but you never know when that is likely to be.

With the oxygen pretty much covered, the major cause for concern this year has been the flooding. The stock pond at the top end of the lake has been a bit of a nightmare, with the water levels rising by 4 to 5 foot at times. We have set a pump system up but the trouble has been there's been nowhere to pump the water out to. The whole surrounding area has been flooded, so where the water would be going out, it is actually already coming in (if that makes sense?) I did get a couple of messages suggesting that where we had constructed the pond we may have blocked a natural escape route off for any excess water. I know what they mean and appreciate the helpful advice but I'm sure that's not the case this time. I think the problem is bigger than that. The whole county is saturated and flooding is widespread. I live about 15 mile away from Horseshoe and I swear some mornings I could come in in my kayak. Personally I think the problem lays with the amount of new houses going up everywhere, and certainly with the number of developments going up in flood plain areas, I think that, coupled with a complete lack of maintenance to the counties drainage systems is causing the real problems here.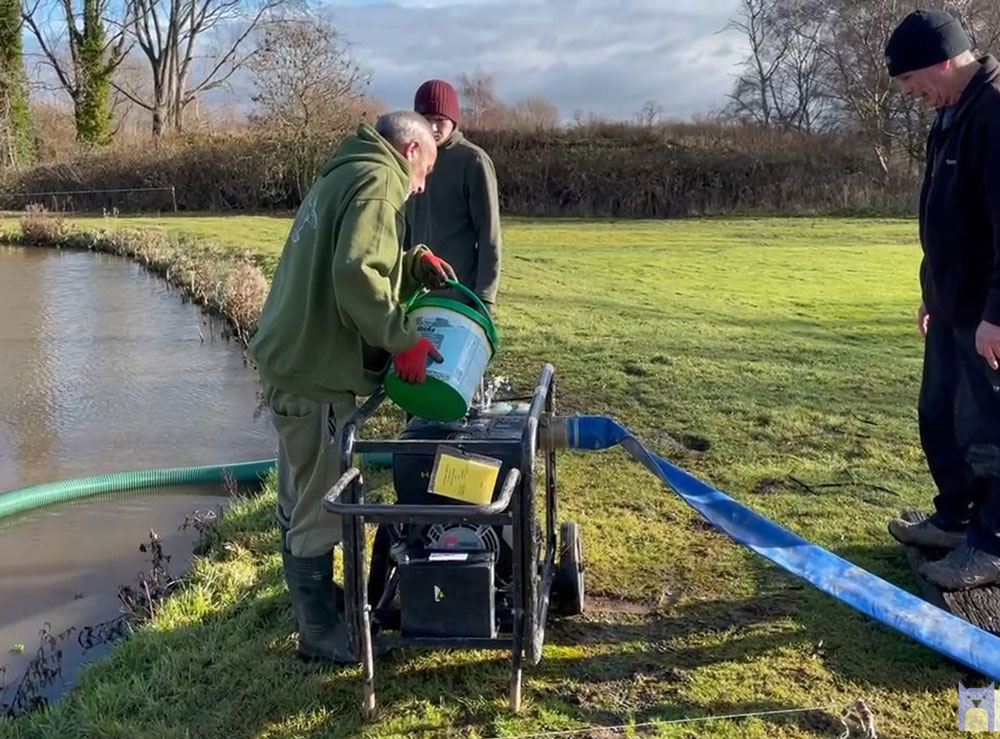 Priming the pump
Regardless, we have, in general, lived with the problems and by and large worked round them and arrived at a stage where we were ready to take our rearing programme to the next level, IE sell a few fish. So a date was set to net the ponds. We put a couple of adverts out advertising fish for sale and the various weight categories that would be available. I say would be available, but with the best will in the world it was only going to be a guess, and certainly not an experienced guess, I would say educated but even that might have been pushing it to be fair, given this was to be our first sale. It could easily have all gone a bit Pete Tong at this stage. Imagine if I'd have said we've got this that and the other for sale and when people turned up to collect I'd got it all wrong and we actually had next to nothing for them? I did have quite a few sleepless nights where that scenario played out in my head I don't mind telling you. Anyway we got a few orders coming in and I prayed to the Carp Gods for a break. Who dares wins Rodders.

We set a date of Saturday 30th January to net the ponds and Sunday 31st for people to collect their orders. This would mean having some sort of holding pens to keep the netted fish in overnight and also to separate them size wise, 3lb to 6lb fish in one pen, 7lb to 10lb fish in another and so on. So the week before the netting we had a little work party and created an area and suitable structure to get a few pens set up. My thanks here to the guys that helped out and especially to Simon Bethel who did the technical work whilst the rest of us did the labouring. We did a decent job if I say so myself.

Thank you Simon
Tempest fugit and all that and before we knew it, it was Friday the 29th. Karl and I spent the day draining the ponds down to a depth both easier to net but still environmentally comfortable for the fish. We did a few other bits and bats of preparation and by close of play we were good to go on the Saturday.

Draining down
I woke up early doors Saturday morning raring to go, only for the wind to be knocked out of my sails upon opening the curtains. It was hammering it down with rain. Not what I wanted to see. I jumped in the bath, got dressed and was soon out the door and on my way. Unfortunately I had left the kayak at Horseshoe so spent the whole journey aquaplaning in my car, not a great start.
On my arrival at Horseshoe Karl informed me the top stock pond had risen again so we went and had a look. It was about 5 feet higher than its normal level and not only impossible to net but impossible to get too, so any ideas of doing anything with that were scrapped. The new stock pond on the headland area that we had spent all day Friday draining down had filled back up. Although netting it had been made more difficult, it hadn't made it impossible so that's where we started. Andrew, Ben and Dave from AE Fisheries had very kindly come down to lend a hand so at least we had some very experienced and capable help to rely on. We got the net out and walked it round the margins and were soon in a position to start bringing it in.

Netting

What I haven't mentioned is the Friday 29th was my 60th birthday and here I was, the day after my 60th, in the pissing down rain with a force 10 easterly wind blowing me around, in a pond up to my chest in water with the occasional wave lapping over my waders and dampening both body and soul. I think it was about this time I started to think about existential absurdity and the meaning of life. Regardless, we persevered and were soon bringing what we hoped was a full net to the margins. It's always exciting as the net gets closer and closer. Not the American Secretary of Health being transgender exciting, but you know, pretty exciting.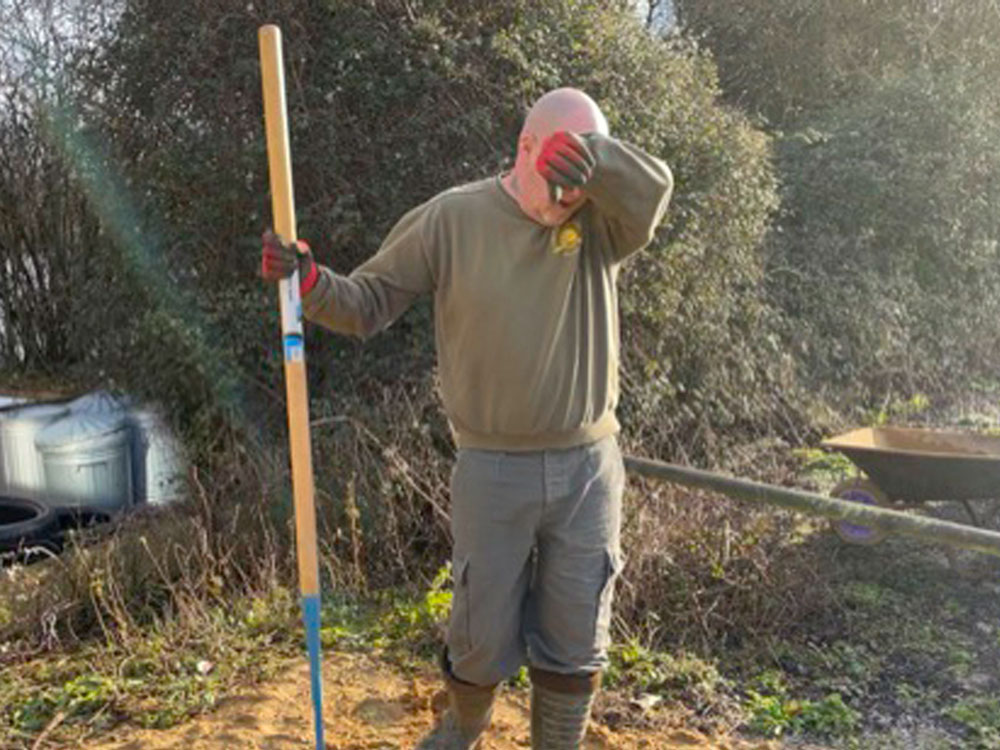 No way to spend your 60th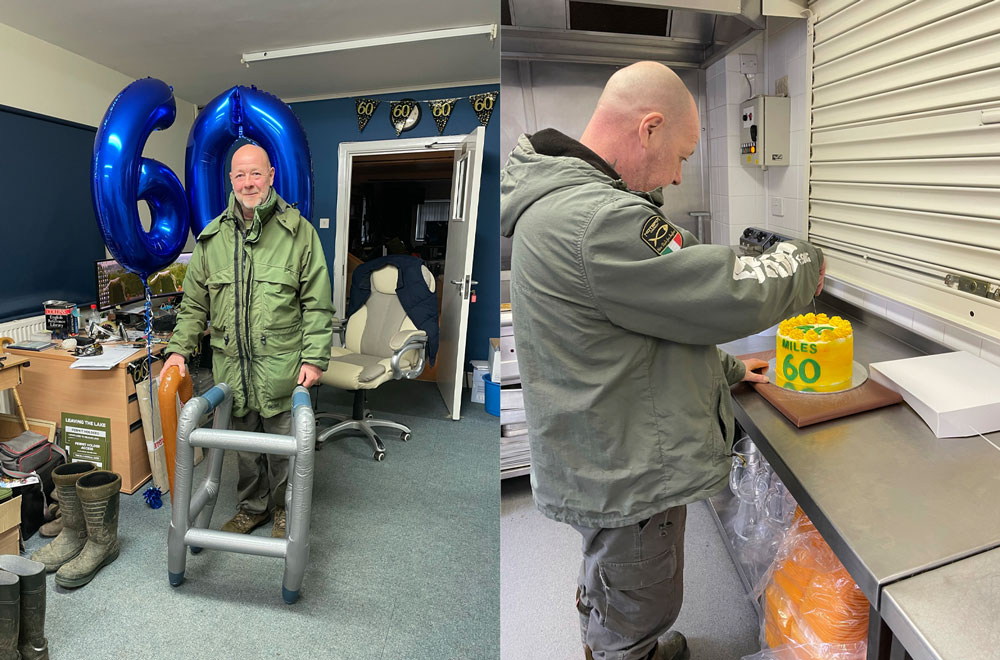 That's more like it
The net came in and we were soon looking at the fruits of our labour, the first good news of the day, a net full of lovely pristine looking Carp. We've put such a lot of hard work into these ponds so it really was quite a buzz to see all that time, effort and worry coming good. No time to sit on our laurels though, we had to get the fish from the net and into their respective pens and get some oxygen going. The rain was still lashing down and the easterly wind was biting into us but it's amazing what a bit of adrenalin can do for the old bones. We eventually got them all sorted and graded and settled in the pens and it was now time for a well-earned brew.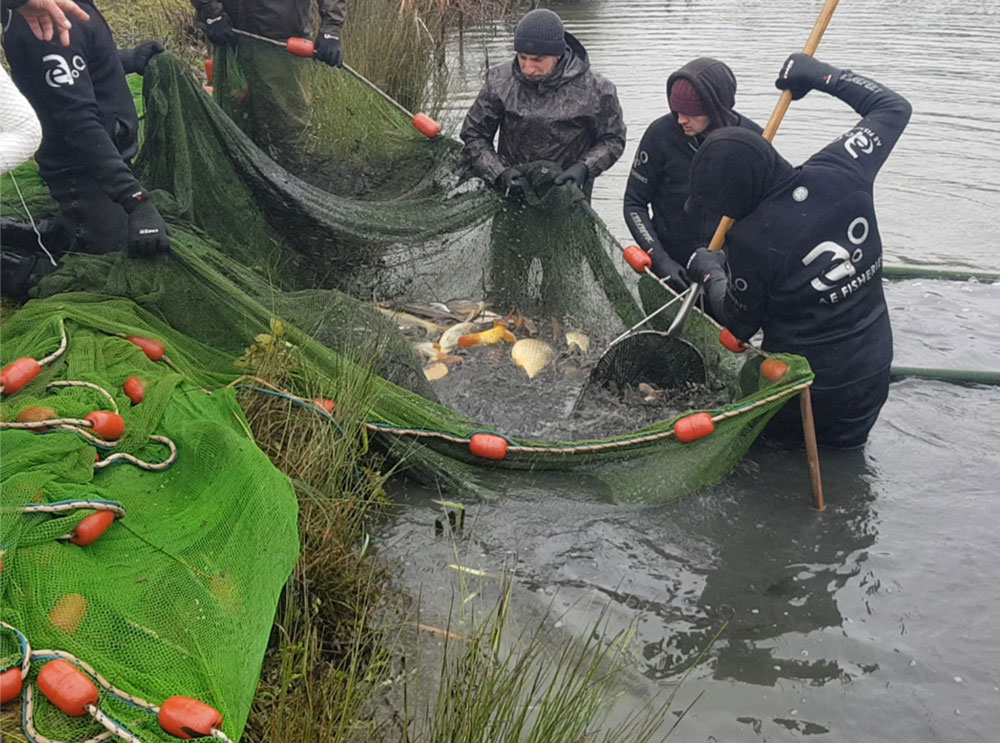 Lolly (Karl's girlfriend) had made me a 3 tier lemon drizzle cake for my birthday so we all had a slice (or 2) of that and it was delicious, probably sent the old calorie counter ballistic, but sometimes you just can't say no. Lolly also made me a Key Lime pie but that wasn't for sharing. Unbeknown to me, a few of the lads (and ladettes) who have fished our lakes over the last few years had grouped together and all chipped in a few quid and commissioned Jamie at Carpy Kettles to come up with a present for me. He didn't let them down and after the cake was demolished, Justin Hawkins, on behalf of the lads (and ladettes), presented me with a fantastic piece of bespoke art. I was blown away, not only with the artwork but with the gesture itself. The artwork is something else, I absolutely love it, and the attention to detail is just incredible. The talent Jamie has is just amazing. Honestly, if you want a bit of bespoke carp related art you've got to contact Jamie, I can't speak highly enough of his talent, and having met him a couple of times in person, his character and ethos are on a par with his talent. Has we would say up north, he's from good stock.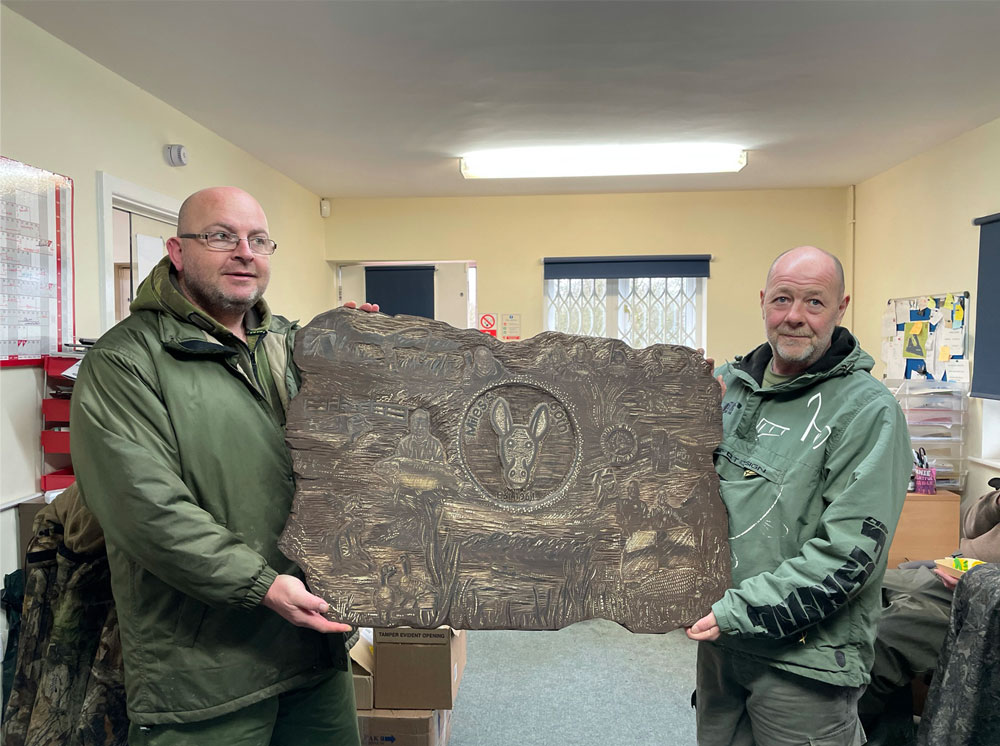 Jamies amazing artwork
Right, let's get back to the matter in hand. Next up was the Lagoon stock pond. This pond had flooded a couple of times in the previous months but we were pretty sure none of the fish had escaped. What I hadn't bargained for though was that although no fish had escaped, when we brought the net in on this particular pond, a couple of thousand Roach, Perch, Rudd, and baby pike had decided to make it their home. They had obviously made their way in during the flooding, and of course when the flooding subsided there was then no way out for them. I normally love to see fish of all species anywhere, but they are not really what you want to be seeing in a Carp growing stock pond. We have managed to re home these fish but it does beg the question "How many are still in?" That's for another day though. There was also plenty of carp in the net so that was good to see. We put a few of the bigger ones into the pond we had netted earlier, put a few in the pens that we were going to sell, and Bob's your uncle, that was that pond done.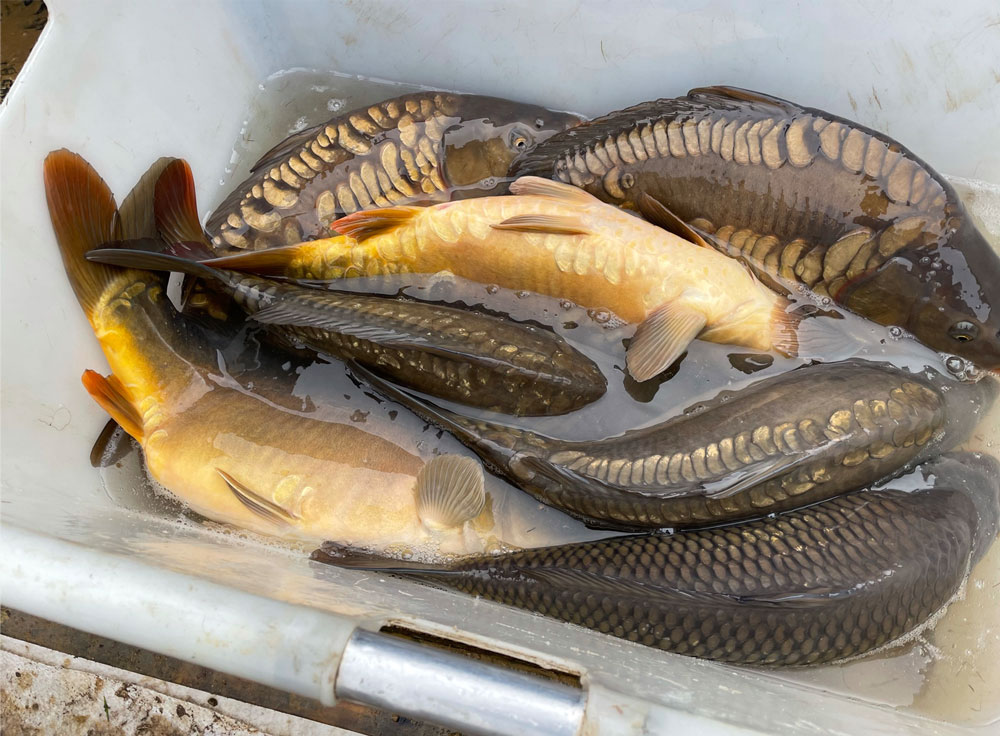 Fruits of our labour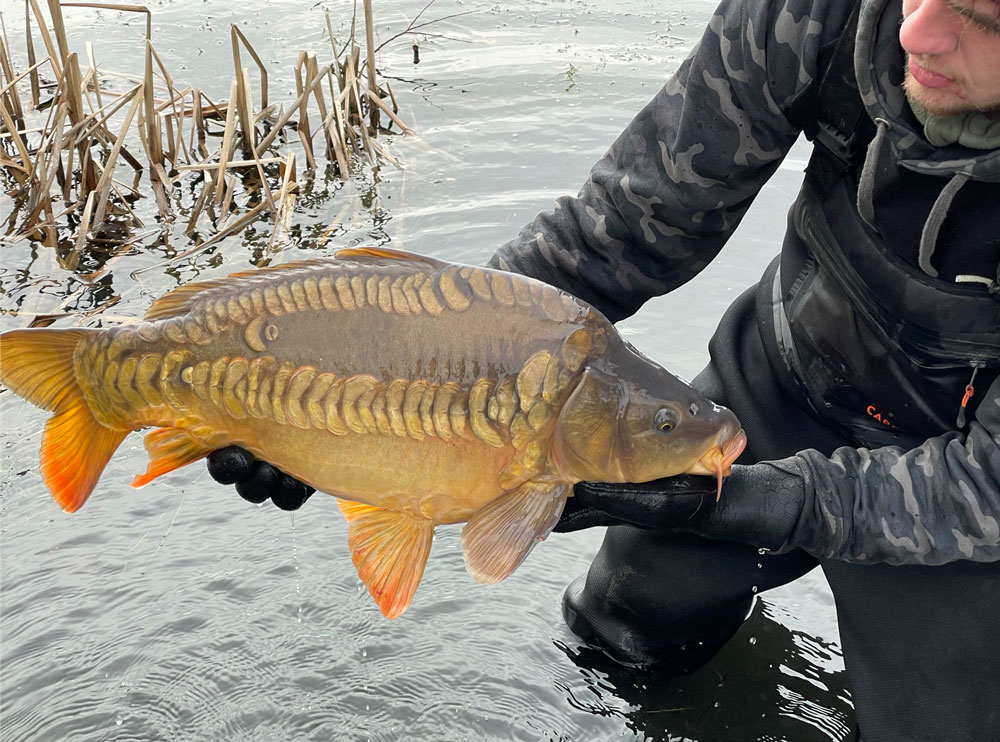 It was getting on a bit by now and we were soaked to the skin so decided to call it a day. Except for Andrew. Andrew had kindly volunteered to deliver some fish to a customer for us, so we loaded them up and whilst we were drying off and getting ready to go home, Andrew still had a couple of wet hours to do, God bless him.
I then went home, banged the central heating up to tropical, had a bath, got some clean dry clothes on, steamed into fish and chips followed by the best Key lime pie in the world and reflected on the day. I was soon struggling to keep my eyes open so called it a night and went to bed, to sleep, perchance to dream, aye there's the rub.

Stocking our own waters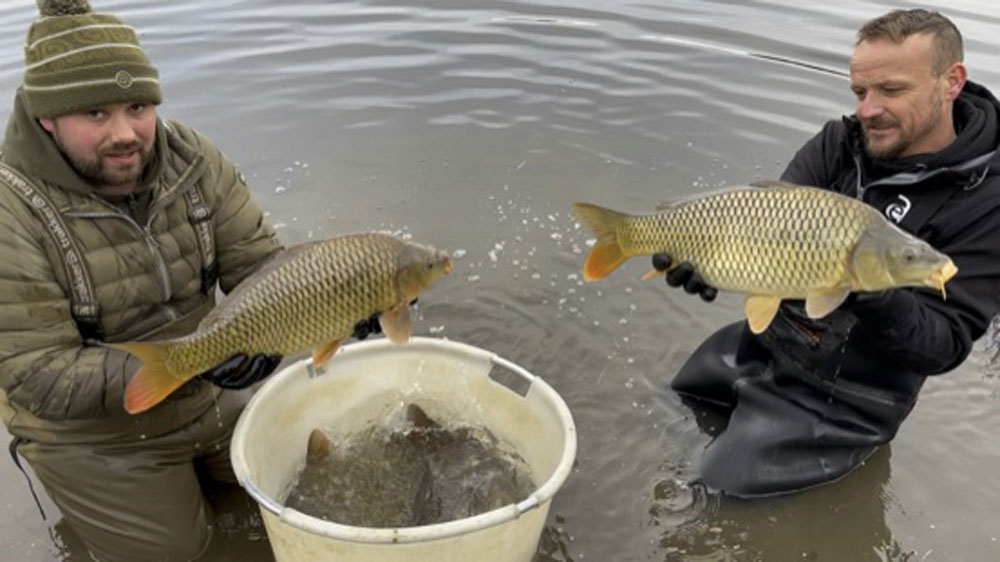 Before I knew it, I was awake and it was Sunday morning, so back to Horseshoe to get the orders ready for collection. It was a cold crisp morning but thankfully no rain. Throughout the morning the people who had ordered fish came to collect them and we were done by mid-day, happy days.


Fish of all sizes

So there you have it, a brief description of just one weekend at Horseshoe, all be it a big weekend. It wasn't the big weekend I'd originally had in mind for those dates. I had planned a big weekend party to end all parties, and had hoped to celebrate my birthday with all my friends, getting hammered, listening to some good tunes, reminiscing, talking bollocks and generally having a good time. But a Chinese fella with a yearning for a bit of Bat Fricassee a year ago put paid to that idea. We really are living in the strangest of times aren't we?
But all in all I had a good weekend, it was cold hard work but as always here we had a bit of fun, got the job done, made a few quid for the Carp Society, the people that bought the fish seemed happy enough, and we were also able to help a couple of local angling clubs out by way of gifting them some fish. We also put 30 or so fish into our own lakes. So you can't really ask for more than that. I would just like to end by thanking everyone involved. Andrew, Ben and Dave. All the Horseshoe guys who turned up to help out, all our customers. A big thank you to Viv at VS Fisheries who put a customer of his in touch with us and helped us out massively. That was a fantastic thing for Viv to do, genuinely above and beyond, and yeah, thank you very much Viv. Finally I would like to thank all the people who made my 60th birthday such a special time. I had given up on it with all this virus carry on, but the Donkeys came through, I should have known they would. It's not the first time they've helped me out and I love them dearly for it. Bless you all and let's hope we can all meet up in the summer and we can have a sixty and a half birthday celebration and get proper mullered.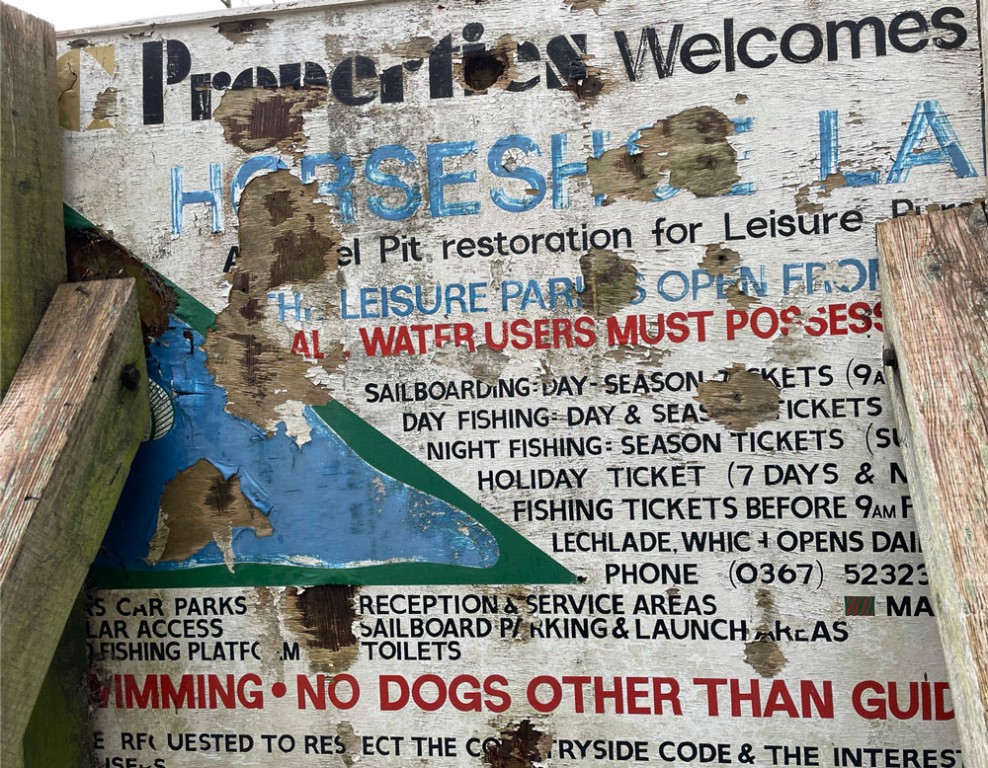 Can you help?
Just on a finishing note. Whilst we have been doing a bit of work this winter we came across this old sign. As you can see it's not in the best of condition. I did write to 'The Repair Shop' to ask if they could do anything with it but they never circled back to me. So what I am asking is if you or someone you know can restore it for us then please get in touch. I'd love to see it repaired and on display at Horseshoe.

Till next time

Miles