Horseshoe Lake
OFFICE SHOP CURRENT OPENING TIMES UNTIL 31ST MARCH 2022
MONDAY TO FRIDAY 9AM - 4PM
Fishing Tickets on Horseshoe Lake
Carp Society members are able to purchase fishing tickets on Horseshoe Lake from the onsite tackle shop during office hours (Monday to Friday 9am - 4pm) fishing is priced at £1.25 per hour, this option is available all year round and is flexible ie 10, 24, 48, 72 + hours)
On arrival to the lake, press the intercom, once the gate is released please report immediately to the lodge to purchase your ticket.
* During the winter months only (Nov to Feb), existing Carp Society members who have fished regularly this year will be able to call in advance and purchase a fishing ticket over the phone for arrival Saturday's only between 9am - 11am only for the same week and collect from Karl on arrival.
Guests:
All anglers are permitted to bring one non fishing family member (child/partner), they must have a valid Carp Soceity membership.
Restrictions:
Currently there are no restrictions in place. In the event covid restrictions come in to action we will update this page with news.
HORSESHOE LAKE PERMITS 2022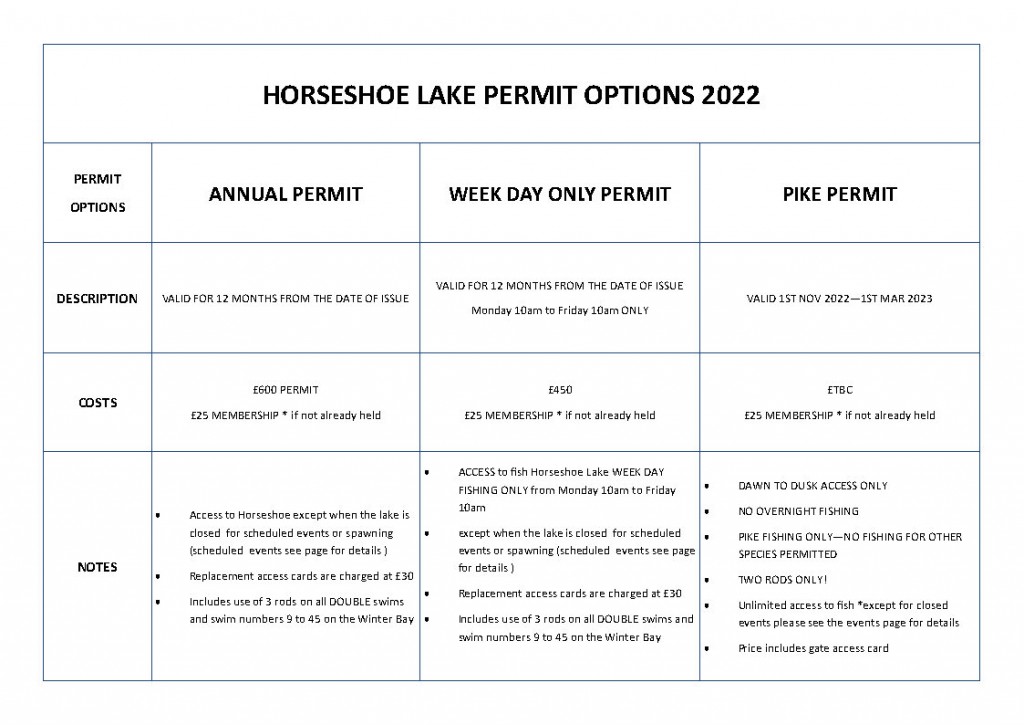 FULL ANNUAL PERMIT: We are not currently processing any NEW full annual permits at this time, to be notified of future news, availability, prices etc please email sales@thecarpsociety.com along with your name & membership number to be added to the mailing list.
WEEKDAY ONLY PERMIT: We currently have a limited availability for weekday only annual permits; this permit valid for one year from the date of purchase will allow anglers access to fish the lake between 10am Monday until 10am Friday's. for further details please call or email us sales@thecarpsociety.com.
Renewal permits:
Current permit holders will have the option to renew for a futher full 12 month, 6 month or weekday permit, renewals should be emailed with their options and have 2 weeks to renew to secure their place.
If you have not received a renewal email please contact the office (sales@thecarpsociety.com) for a renewal permit application form within one month of your current permit expiring.

LITTLE FARRIERS
Little Farriers is open as normal to pre bookings, available on a private hire basis for up to four anglers on a 3, 4 or 7 night basis. check the calendar or contact us on 01367 253959 email: sales@thecarpsociety.com for enquiries.
FARRIERS LAKE
Current syndicate members: For up to date news please refer to the facebook group.
The waitlist reopens on two dates in February please see this page for more details