Fishing at Horseshoe Lake
There are two options to fishing Horseshoe Lake, in both instances all anglers MUST be Carp Society members
DAY TICKET OPTIONS
As from Monday 13th July Horseshoe Lake will reopen to day tickets for existing members in a limited capacity.
Arrival via the day ticket gate (off the roundabout)
The gates will be open Monday – Friday between 9am – 4pm and Saturday 9am -12 midday NO ARRIVAL SUNDAY
Day tickets will be limited, the number of availablity will vary depending on how busy the lake is
In the event of the lake being too busy a notice will be placed on the Facebook page for no new day ticket arrivals & anyone arriving may be turned away
On arrival immediately visit the office/lodge to purchase your day ticket
Maximum 2 rods in all swims
All anglers must wear a face covering/masks when coming into the shop
There will be no access in/out the lake outside of these hours
Unfortuantely at the moment no non-fishing guest are permitted to attend with day ticket anglers
There is no limit to the number of nights
Day tickets Start time from the time of purchase

ADVANCE DAY TICKETS
If you wish to book a day ticket in advance to guarantee availability (this does not book a specific swims) you can do so a month in advance via fishingticket.com for midweek arrivals (see link below)#


PERMIT OPTIONS
We offer a 12 month and six month permits
The benefits of a permit:
Unrestricted access to the lake - meaning you can arrive to fish at any time and have gate key access
Unlimited access to fish (with the exception of closed events)
Includes the use of three rods on - all double swims when fishing alone and swim numbers 9 to 45 on the winter bay
Bring one non fishing guest along over the age of 12 years old (the guest will need to be a Carp Society member)
Prices for permits are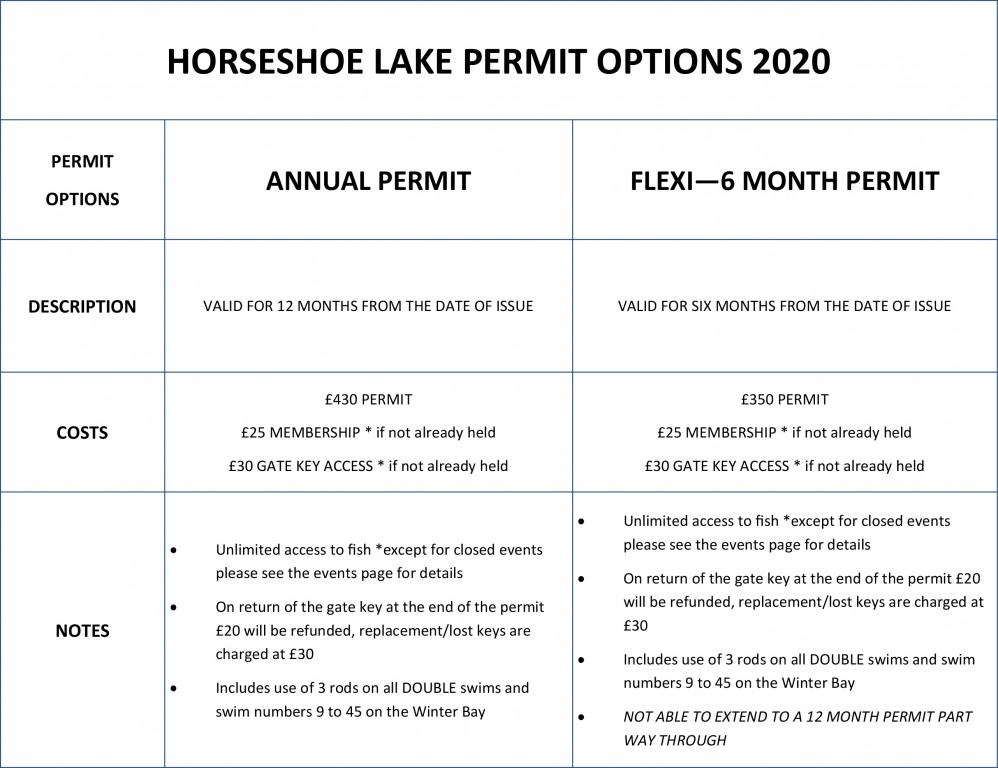 From the 13th July 2020, permits can be purchased in the shop between 9am - 4pm
Please print the permit application (below) and bring with you along with two passport photos
If you would like to apply for a permit electronically
Download the permit application, complete and email sales@thecarpsociety.com
Please attach a photo (clear face photo) to the email above
Payments - we only accept one full payment, the payment should include the permit fee, membership if due to expire and the key fee.
Please indicate your permit start date on your email
Payments can be made by card over the phone Monday - Friday between 9am - 12 midday
or by bank transfer to The Carp Society A/C: 50410993 S/C: 20-84-61
Once your permit application & payment has been received you will receive an email confirming acceptance and when your permit will be ready for collection.



Some of these rules may be superceded by the additional covid-19 rules implimented
Government guidelines on social distancing must be adhered to at all times
Anyone displaying symptoms or living with anyone showing symptoms should not attend the lake
ALL WASTE MUST BE TAKEN HOME
We reccommend anglers carry their own sanitisers to use
We have provided santisier at the entrance gates for use