UPDATE: 7th January 2021 - due to the national lockdown the following will apply
Horseshoe Lake will be open to permit holders only
Farriers Lake will be open to permit holders only
both lakes will be open in accorance to the goverment guidelines until they as per details posted by the Angling Trust

THE HORSESHOE SHOP WILL BE CLOSED but offering a call and collect service (as per guidelines) this means that all memberships, permits and renewals will need to be completed electronically, either by emailing sales@thecarpsociety.com and or by the online shop HOW CAN I FISH HORSESHOE LAKE
There are two options to fishing Horseshoe Lake, in both instances all anglers MUST be Carp Society members
DAY TICKET OPTIONS (temporarly suspended)
day tickets and permits can be purchased from the shop during normal opening hours
Arrival via the day ticket gate (off the roundabout)
The gates will be open Monday – Friday between 9am – 4pm
NO ARRIVAL SATURDAY OR SUNDAY
On arrival immediately visit the office/lodge to purchase your day ticket
All anglers must wear a face covering/masks when coming into the shop
There will be no access in/out the lake outside of these hours
Unfortuantely at the moment NO guests are permitted to attend with day ticket anglers (this includes children)
There is no limit to the number of nights (see rules for swim number of nights in swims)
Day tickets Start time from the time of arrival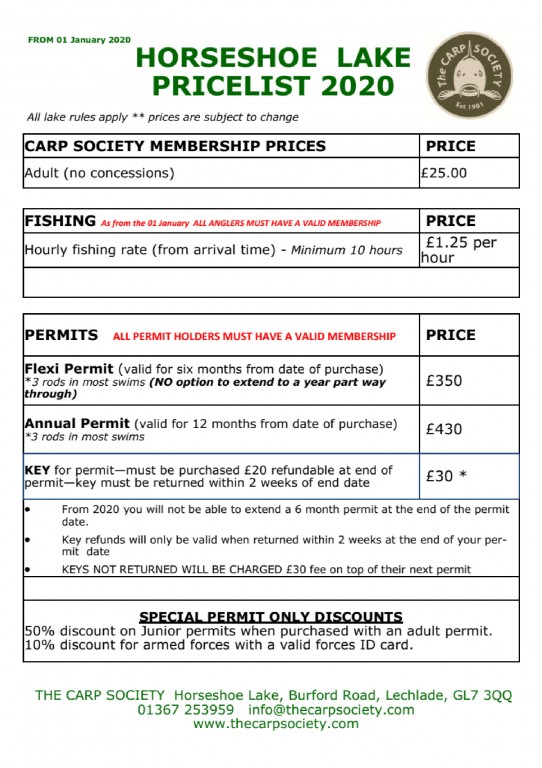 Day ticket arrival and departure times on Horseshoe

Midweek Day ticket anglers can arrive and book in at the shop between the hours of 0900 – 1600 Monday to Friday. Departure from the lake is also only permitted during those hours. That does not mean you have to arrive and leave on the same day. You can fish as many days/ nights as you wish but on your departure date you can only leave between 0900 -1600. The weekend arrival and departure is slightly different. See below
Weekends (during spring/summer) - You can arrive and report to the shop on Saturday between 0900 – 1200 (midday) No arrivals on Sunday If you are leaving the lake on Saturday or Sunday, you must do so between the hours 0900- 1200 (midday). The day ticket gate will be unlocked between those hours on Saturday so please just close the otter fence gate behind you when you leave. The gates will however be locked on Sunday. If you are leaving on Sunday (only permissible between 0900-1200 midday) you will be given a phone number to ring to let you out.
This procedure is brought about strictly for security reasons. We want our anglers to be able to come to Horseshoe, relax and enjoy the fabulous fishing and surrounding environment available here. There is an alternative should our opening hours not suit. We offer a 12 month permit that gives you unlimited access, so please look at that option. We appreciate this will not suit everybody but too many times now over the years we have found the gates left open and unlocked and found people who shouldn't be on the lake wondering round willy nilly. It's all well and good saying ban people or name and shame them but in reality that is closing the stable door after the horse has bolted. Unfortunately we live in a time when selfishness and lack of respect for others seems to be the order of the day and we have to react accordingly to ensure the comfort and safety of our anglers.
PERMIT OPTIONS
We offer a 12 month and 6month CARP FISHING permits & a seasonal PIKE only permit (please read the rules/T&C before purchase
The benefits of a permit:
Out of hours access to the lake - meaning you can arrive to fish at any time and have gate key access (except when the lake is closed for any reason)
Includes the use of three rods on - all double swims when fishing alone and swim numbers 9 to 45 on the winter bay
Bring one non fishing guest along over the age of 9 years old (the guest will need to be a Carp Society member, must be from the same household ie partner or child)
Prices for permits are
Permits must be purchased electronically by emailing a completed form and photo to sales@thecarpsociety.com
Please print the permit application (below) and bring with you along with two passport photos
If you would like to apply for a permit electronically
Download the permit application, complete and email sales@thecarpsociety.com
Please attach a photo (clear face photo) to the email above
Payments - we only accept one full payment, the payment should include the permit fee, membership if due to expire and the key fee.
Please indicate your permit start date on your email
Payments can be made by card over the phone Monday - Friday between 9am - 12 midday
or by bank transfer to The Carp Society A/C: 50410993 S/C: 20-84-61
Once your permit application & payment has been received you will receive an email confirming acceptance and when your permit will be ready for collection.



Horseshoe Pike Permit Application

Some of these rules may be superceded by the additional covid-19 rules implimented
Government guidelines on social distancing must be adhered to at all times
Anyone displaying symptoms or living with anyone showing symptoms should not attend the lake
ALL WASTE MUST BE TAKEN HOME
We reccommend anglers carry their own sanitisers to use
We have provided santisier at the entrance gates for use