Want to fish Horseshoe Lake find out more here
Horseshoe Lake is 62 acres and consists of two main arms known as summer and winter bay. The quality and beauty of Horseshoe Carp is legendary amongst anglers and stock includes many 20s and 30s, along with specimen Tench, Rudd, Bream, Perch and Pike. We have an on-site tackle shop, shower and toilet facilities.

Horseshoe Lake is available on a day ticket and seasonal permit options to Carp Society members

Firstly In order to fish our water you need to be a member of the Carp Society, this is an annual fee of £25

Day / Hourly tickets.
There is no restriction to the number of hours you may fish as a day/hourly ticket you can fish from 1 - 100 hours! (there are however restrictions on the number of nights in one swim)
The rate is £1.25 per hour payment on arrival.
Due to the nature of day/hourly tickets you are restricted to arrive when the shop/office is open (see opening times) to purchase your ticket. On arrival you will purchase your ticket to the number of hours you are expecting to stay. We are unable to refund hours not used so keep this in mind when buying hours in advance. If you wish to extend your stay you can do as long as the office/shop is open. Please check with staff on arrival. The bailiifs are unable to sell tickets out of hours.
The entrances are locked when the office/shop is closed to create a secure site for the lake & anglers.
We are no longer able to pre sell fishing tickets over the phone for arrival out of hours, please check the opening hours on the website.
HORSESHOE PERMITS
If you would like more flexibility to your fishing, to be able to arrive out of hours then we suggest one of our permit options
If you would like details please contact us on info@thecarpsociety.com for a permit application or more information (also provided below)
FULL ANNUAL PERMIT: - £600 - Valid for one year from the date of purchase, anglers can gain access to the lake any at ttime (except event lake closures and spawning) with their 'access card' please email sales@thecarpsociety for a form (or download)

WEEKDAY ONLY PERMIT: £450 This permit valid for one year from the date of purchase will allow anglers access to fish the lake between 10am Monday until 10am Friday's. for further details please call or email us sales@thecarpsociety.com.

Renewal permits: - £550 Current permit holders will have the option to renew at a discounted price, renewals should be emailed with their options and have 2 weeks to renew to secure their place. If you have not received a renewal email please contact the office (sales@thecarpsociety.com)
The seasonal permits above allow access for the duration of your permit with the exception of closed events & spawning closures. The closed events for 2022 are as follows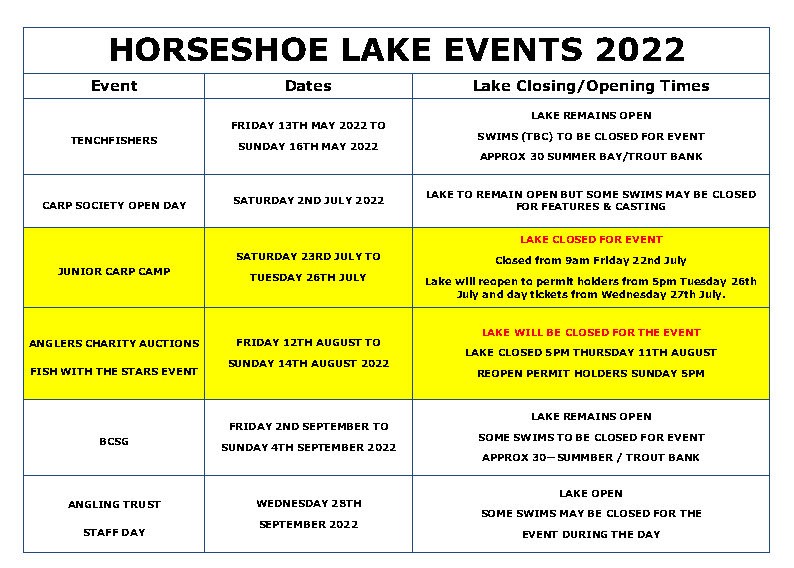 HORSESHOE LAKE:
ANGLERS ARE PERMITTED TO BRING ONE NON FISHING GUEST - Guests will need a Carp Society Membership. (guest must be from the same household ie. partner or child)
Fishing double swims - Two people may fish double swims as long as they adhere to government guidelines on bubbles or distance.
- On arrival to the lake, press the intercom (open the gate) and report immediately to the lodge to purchase your ticket. - Limited to 2 rods only in all swims
- Day ticket arrivals (you need to arrive between the hours of Mon - Friday 9am - 4pm and 9am-12 midday on Saturdays (in the spring and summer) (during the autumn/winter existing members can call to book arrival on saturdays)
- We do not allow day ticket arrivals on a sunday.
- Day tickets leaving the lake day tickets, exiting the lake at the time specified on your ticket - press the intercom to be let out.
OFFICE/SHOP OPENING HOURS
The shop opening times

Spring/Summer Monday - Friday 9am - 4pm & Saturday 9am - 12 midday
Winter/Autumn Monday to Friday 9am - 3pm
NEW GATE SYSTEM EXPLAINED