Horseshoe weekend August 4th and 5th Update
Here's an update to the weekends events and programme. As well as the trade stands, casting demos, children's activities, raffles, auction, museum opening, "old school evening" and plenty of food and drink, we are now able to confirm some well known names and faces who will be attending the event, for any of you who want books signed etc.
Chris Ball, Mike Wilson, Len Arbery, Tim Paisley, Kevin Clifford, Julian Cundiff, Mike Starkey, Peter Springate, Robin Dix, Derek Stritton, Greg Fletcher, Mally Roberts, are but a few of those that have confirmed so far. Courtesy of the clearing of the former Angling Publications offices we will have a few rare and currently unobtainable books for sale over the weekend.
We'll take time to remember and raise a glass to absent friends, but this is an occasion to celebrate angling and carp fishing in particular, so please young and old, experienced or newcomer come along and join us! Our auction on Saturday evening will include "Redmire Pool" ( on dates you will know in advance!) a chance to fish the wonderful "Farriers," some original Brian Mills drawings, (proceeds to his wife Gloria), and a few other very special items!
For those of you who have never been to Horseshoe Lake, this is a chance to look around a very special place, and see our wonderful facilities. For those who want to stay the weekend, you can call the Society office for details on 01367 253959.
Look forward to seeing you then!

The Carp Society is holding its annual open weekend on Sat 4th & Sun 5th August 2018.
Hot food and bar available all weekend its one not to be missed !!
Trade stands booked in so far;
Nash
Bristol Angling Centre
Gardner
Pallatrax
Kudos Tackle
Franks Leads
Sandhurst baits
Pure Pellets
Sticky Baits
Taylors Lead Lounge
casting tuitions available with John Carver *SATURDAY ONLY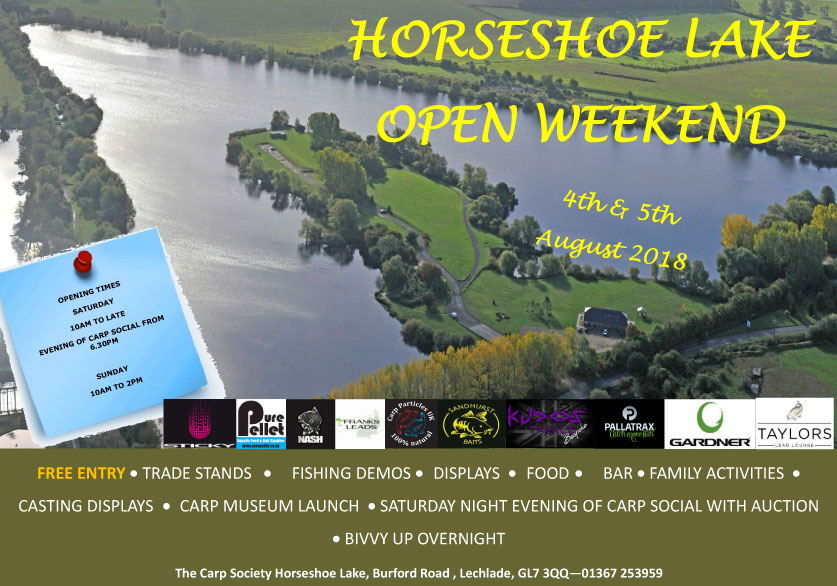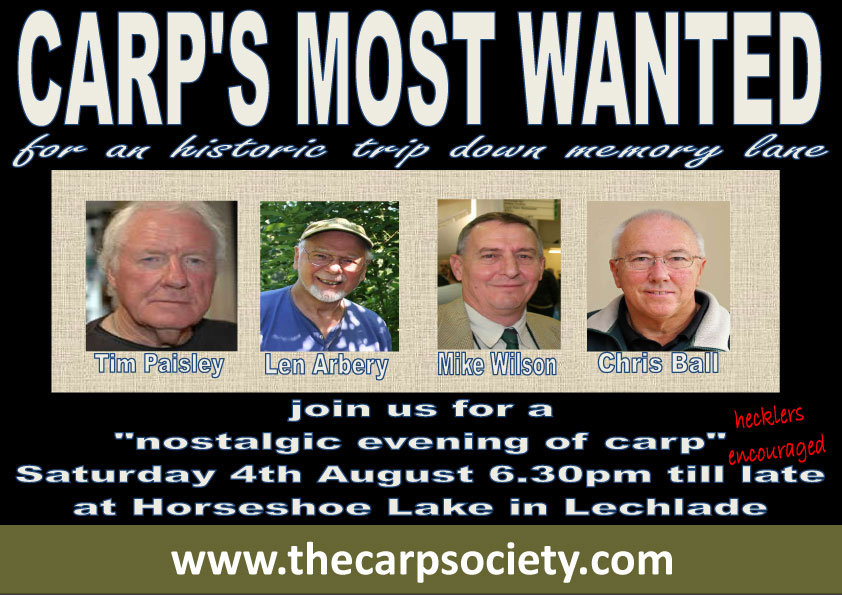 as if you need an additional reason to come to the open weekend ... we are holding a special event on Farriers Lake 5th - 7th October 2018 - places will be available to book in person only at the open weekend